By Lookout on Aug 12, 2013 with Comments 1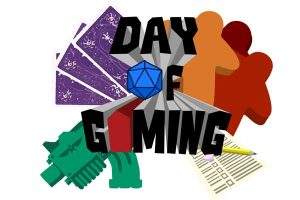 Games, whether classics like Monopoly or cutting edge video games, are always more fun with many players.
Lt(N) Michael Greer is hoping to prove that with the upcoming Day of Gaming on Aug. 18.
The event will take place at the University of Victoria's Clearihue Building from 10 a.m. to 8 p.m. The $5 entry fee gets you unlimited access to a variety of games and eligibility for door prizes.
"People can stay for as long as they'd like," says Lt(N) Greer. "Some of these games can take a few hours, so we want to give people enough time to play as many games as they'd like."
While the event will boast a large supply of role-playing games (RPG), card games, and board games of all kinds, attendees are encouraged to bring along games they would like to share.
"The gaming community is about trying new things," says Lt(N) Greer. "Anything that anyone wants to bring will definitely get people interested."
The idea for the event struck Lt(N) Greer following a four month course in Halifax earlier this year. He was introduced to the Halifax board gaming community and took to the hobby as a fun and social way to pass the time.
"It's a very healthy, connected community," says Lt(N) Greer. "There are a lot of people, and smaller groups, but they're all connected. There are some nice big groups that get together weekly."
Lt(N) Greer says the gaming groups in Victoria are disjointed and many groups are unaware of each other.
"There's a group that meets at a local bakery in town and I asked them if they'd ever heard of the UVic group," he says. "They had no idea! Many gaming groups in Victoria seem unaware of each other."
With an eye toward cross-pollinating as many gaming groups in Victoria as possible, Lt(N) Greer took up the task to create an event that would bring everyone together.
The Day of Gaming will provide a chance for people without much experience playing games to come and try something new. A number of "Learn to Play" events will be taking place, walking new players through popular board games, as well as introductory RPG sessions for games like Pathfinder and Dungeons & Dragons.
"We're hoping to get veteran gamers as well as brand new players to come down," says Lt(N) Greer.
Over $600 in door prizes will be given away from a variety of sponsors including Curious Comics, Z-Man Games and QV Café & Bakery.
If this year's event is a success, Lt(N) Greer says he would love to make it an annual gathering. He also hopes it spurs Victoria's gaming scene into a more cohesive and wide-ranging community.
"There are a lot of people in Victoria that love to game," he says. "I hope we'll help them find more groups and places to play."
For more information, visit http://igg.me/at/day ofgaming.
-Shawn O'Hara, Staff Writer
Filed Under: Top Stories
Comments (1)