By Lookout on Mar 22, 2021 with Comments 0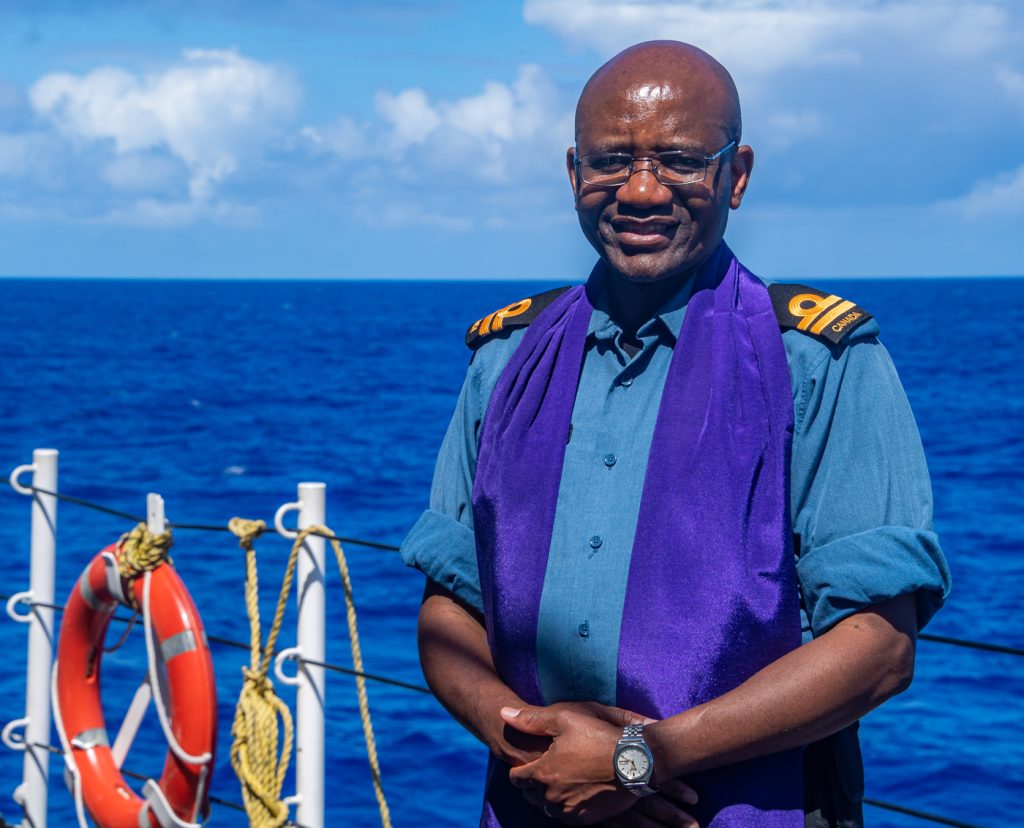 Captain Jeff Klassen
HMCS Calgary PAO
––
From a farm in Africa, to communities in Newfoundland, and then to Asia and the Middle East on a warship – the adventure of HMCS Calgary's chaplain continues.
Lieutenant (Navy) Wilson Gonese grew up on a farm in Gutu, Zimbabwe. He received a calling from God and after high school told his parents he wanted to be a minister.
"At first it was not accepted because ministers were not paid well. My family wanted me to go into nursing or teaching, anything more secure. But I was convinced God was calling."
For 13 years, Lt(N) Gonese served as a minister in the Reform Church in several communities in Zimbabwe and Botswana. In 2007, with hopes of a better life, he and his wife and their two children took a one-way flight to Canada where he continued to work as a United Church Minister in Newfoundland in the communities of Burgeo, Springdale, and Carbonear.
"Moving to Canada from Africa was a huge transition. The cold weather, cultural shock, not knowing whether we would succeed or not. Still, the people of Newfoundland are very friendly and welcoming, so I had a very good time there."
In 2018, he had another calling – to join the Canadian Armed Forces as a Chaplain.
"I wanted to serve the country alongside serving members. I looked at the men and women in uniform and I wanted to give them the support they need, to be there for them."
In 2020, he began the biggest adventure of his military career thus far – serving in HMCS Calgary by providing morale and spiritual support for those on board. He is currently embarked with the ship on its deployment to the Indo-Asia Pacific and Middle East regions on Operations Artemis and Projection.
During this deployment, while the ship was in the middle of the Pacific Ocean, he successfully defended his doctoral thesis via a Zoom teleconferencing call. The ship's crew is not certain, but they believe it is the first time a doctoral thesis has been defended on a Canadian warship while deployed on an operation.
Lt(N) Gonese's thesis, entitled, Moving from loss and lament to hope and new beginnings, is a case study about his old community of Carbonear and how they dealt with the closing of their church in 1990. He will be granted a Doctorate of Ministry from the Saskatoon Theological Union, a part of the University of Saskatchewan, at a convocation ceremony on May 7.
Crew members lovingly call him "Doctor Padre."
Lt(N) Gonese feels his journey has been a positive one. He and his wife currently live in Victoria, B.C. His daughter also serves in the Royal Canadian Navy in HMCS Charlettown as a Supply Technician and his son is studying to become a neuroscientist in Newfoundland.
"It's exciting. Coming to Canada and joining the military were some of the best decisions I've made in my life."
––––
Filed Under: Top Stories
Comments (0)