By Lookout on Nov 12, 2020 with Comments 1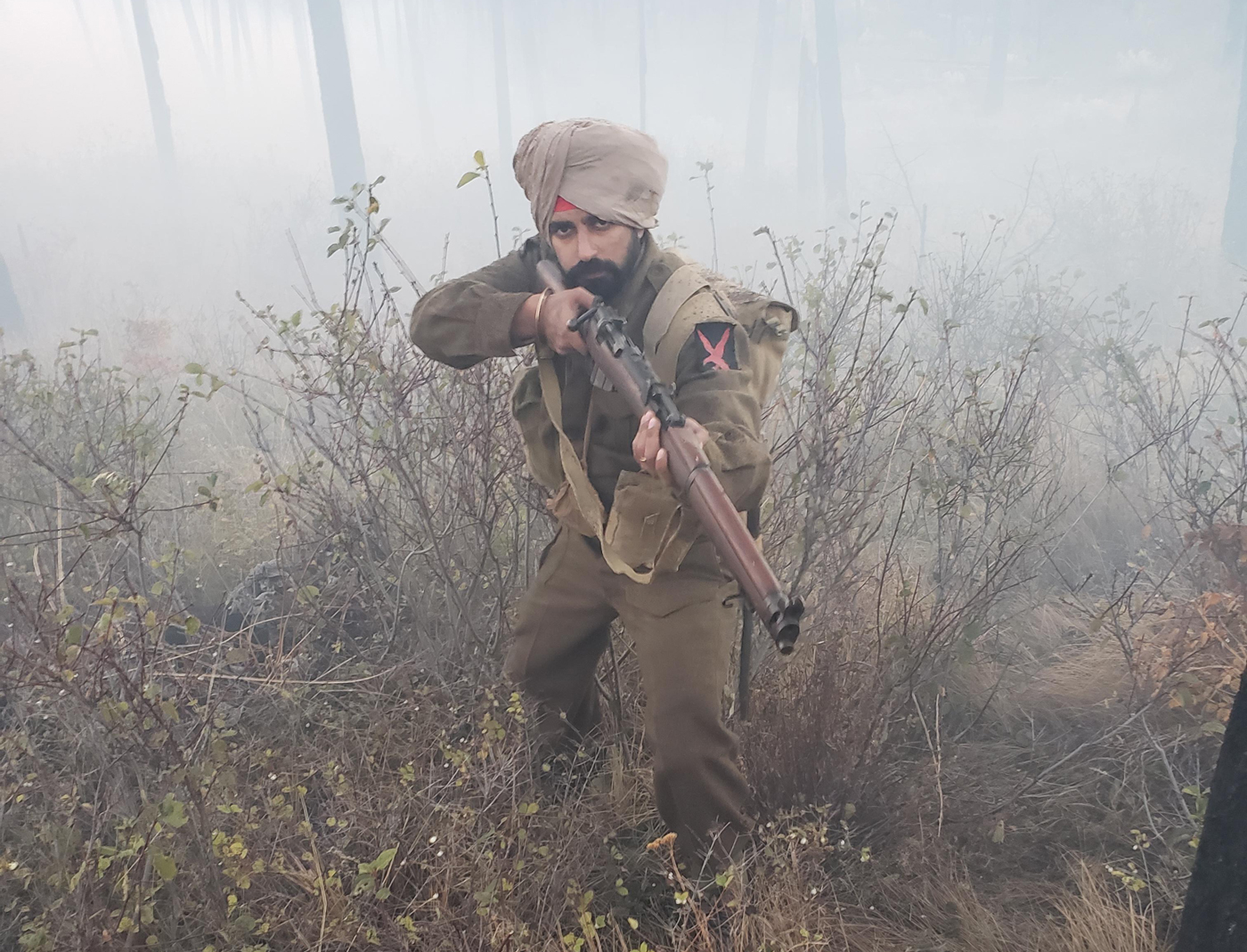 Peter Mallett
Staff Writer
––
A sailor from HMCS Edmonton says serving as an extra in the filming of a Second World War movie was an excellent way to celebrate his family's military service.
SLt Mehak Dhinsa travelled to Kelowna, B.C., Oct. 31 to take part in the opening phase of filming for the historical drama Promises. The short film is the work of Surrey-based historian Steven Purewal. It highlights the contribution made by Sikh soldiers to the Allied war effort, and specifically at the Battle of Monte Casino in Italy.
SLt Dhinsa, who is Sikh, has a strong family connection to Second World War including the Burma campaign. It involved the Allies and China teaming up in a series of battles against the Imperial forces of Japan between 1941 and 1945, to overturn Japanese occupation, but at a horrific cost to military and civilian life.
His great grandfathers and other family members fought in the Second World War conquest and some of them were killed after an air raid by the Japanese.
"Many Canadians are unaware of the importance of the Burma Campaign – in 2014 it was voted the most important battle of WW2 by readers of a broadsheet newspaper in the UK. I thought this was an excellent way to honour their legacy."
The sailor was one of two military members participating in the shoot, with the other an army reservist, Capt Charan Kamal Singh Dullat from Calgary. It was the first film production for him that included a brief speaking role. 
Promises explores the active role of Sikh soldiers during the Second World War and subsequent post war discrimination against Sikh veterans and Indian immigrants in Canada. The film depicts the battle of Monte Cassino, in which the Indian 4th Infantry Division was attached to the British Eighth Army that included the Canadians. 
The battle took place on a bombed out, rubble-ridden hillside in Central Italy in early 1944. The Allies suffered an estimated 55,000 casualties with soldiers from India, the United Kingdom, France, Poland, Canada, New Zealand, and South Africa giving their lives. An estimated 20,000 Germans were also killed and wounded during the assault.
"If the Indian Army hadn't pitched in, the battle would have had markedly different results. But it's also important to remember that everyone contributed to the war effort and that it was a complete unified effort and it took a remarkable team effort to turn the tide against Nazi Germany."
Purewal and his film crew will continue to film Promises into the new year but plan a tribute trailer to be released for Remembrance Day 2021.
––––
Filed Under: Top Stories
Comments (1)