By Lookout Production on Aug 17, 2022 with Comments 0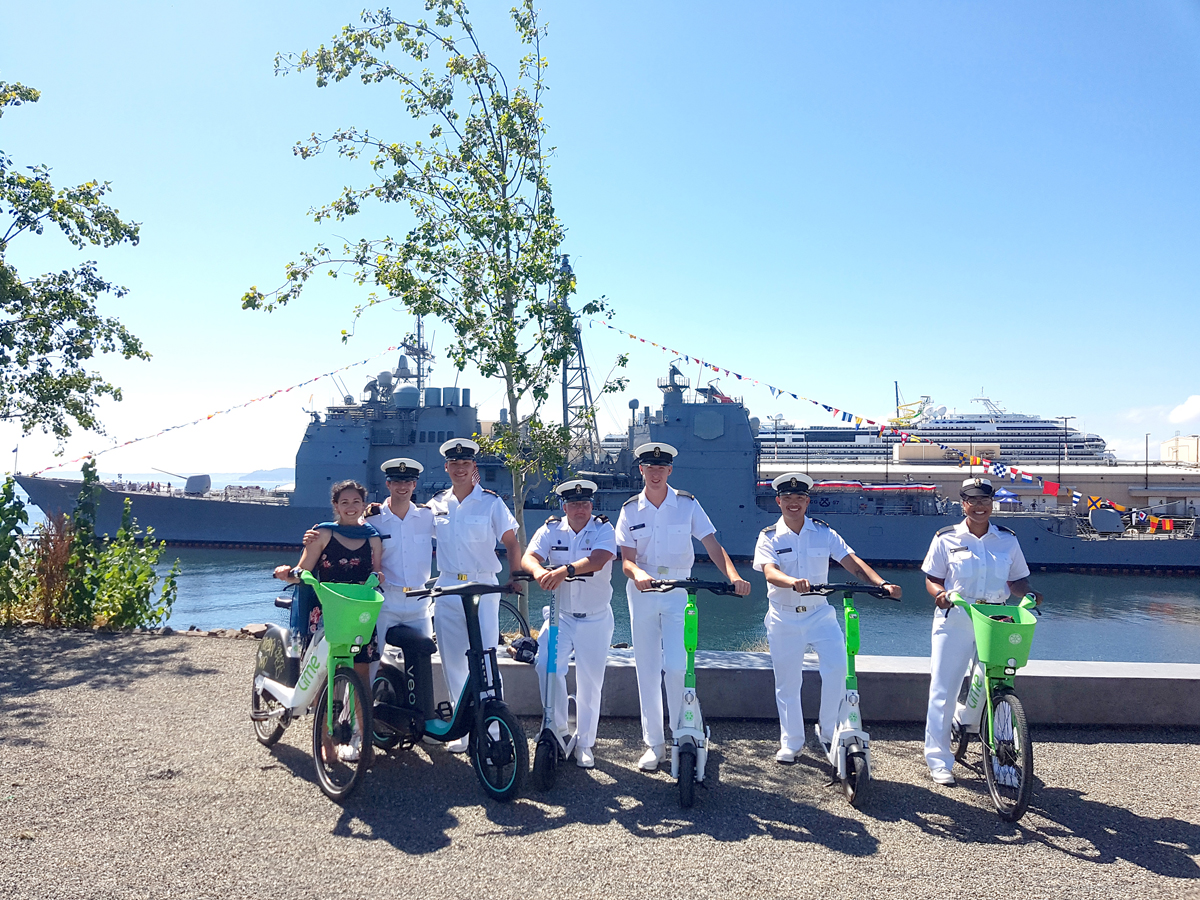 Peter Mallett, 
Staff Writer
—
A recent Seattle visit provided a superb stop for the Navy Bike Ride of the HMCS Yellowknife crew.
"I'm thrilled with the level of participation from Yellowknife, and I'm blessed with a dedicated and generous crew," said Lieutenant-Commander (LCdr) James Brun, Yellowknife's Commanding Officer (CO). "Our sailors have thoroughly been enjoying riding through the streets of Seattle during their down time."
He said their enthusiasm was unwavering, and their steel wheels kept spinning.
The Kingston-class ship and its crew participated in Seattle's Seafair event from Aug. 1 to 7. Approximately 20 members of the ship logged their kilometres in the virtual fundraiser by riding through the streets of the Emerald City with rented bicycles and e-bikes. For those not wanting to tour the city by bicycle, the ship offered a stationary bike in its bridge wing. 
LCdr Brun brought his bike to Seattle. He said he and the crew made it their mission to support annual fundraising and esprit de corps event.
Sailor First Class (S1) Brendan McLoughlin, Yellowknife's Marine Systems Engineer, also brought his bike. While noting staying physically active is extremely beneficial for his mental health, he said he fully supports the Navy Bike Ride mission.
"Participating in this Bike Ride shows my support for the Navy," he said. "I also like how the Navy continues to support its community along with the concept of team spirit and keeping fit."
S1 McLoughlin is an avid cyclist who also does rock climbing and Wing Chun, a Chinese martial art, in his spare time.
LCdr Brun said one of sailors has received the support from event's charities, which set up and helped fund medical evaluations and ongoing support for their child.
The ship's substantial participation numbers and enthusiasm can be traced back to an email from Navy Bike Ride organizers earlier this year. It noted preliminary support for this year's ride was down.
LCdr Brun was happy to report that Yellowknife was in the top three for national fundraising by units and teams. As the CO, he was not taking a backseat and participated in the ride himself. In the last report, LCdr Brun logged over 600 kilometres and raised approximately $1,700.
This year, the Navy Bike Ride had 512 participants and 105 teams raising over $47,000 between June 12 and Aug. 7 for its charities.
The event remained virtual this year with an added premium event, the Admiral's Challenge, designed to challenge participants to select one of three distances to complete and included an exclusive Navy Bike Ride coin to mark the achievement.
Navy Bike Ride
The Navy Bike Ride began in 2016 to encourage the well-being and health of the Royal Canadian Navy communities and families through cycling. Members ride on their own and log their hours and kilometres. In 2020, at the onset of the COVID-19 pandemic, the event became virtual.
The Navy Bike Ride is a way for Canadians to support the recovery, rehabilitation, and reintegration of members with physical and/or mental health illnesses or injuries. It collects donations from across the country and supports charities such as Support Our Troops, Soldier On, and the Royal Canadian Benevolent Fund.
For more information on the Navy Bike Ride, visit navybikeride.ca
Filed Under: Top Stories
Comments (0)