By Lookout on Jan 31, 2018 with Comments 0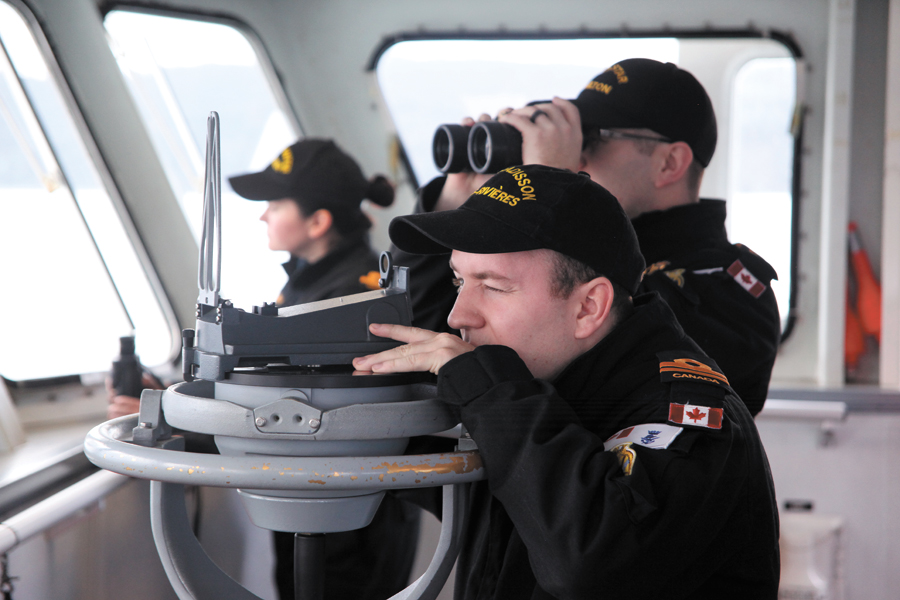 A/SLt Alex Wood, HMCS York PAO ~
More than 100 members from 22 of Canada's 24 Naval Reserve divisions participated in a two-week exercise aboard four Orca Class training vessels in January.
Lead by Officer in Tactical Command, Lieutenant-Commander Trent Nichols (Commanding Officer, HMCS Queen), Naval Reservists from all ranks and trades came together to refresh their skills, progress in individual training, and for several members experience life at sea for the first time.
Naval Warfare Officers honed their expertise in navigation and ship handling as they responded to man over board and steering gear breakdown drills.
Boatswains, cooks and other crew members worked on firefighting techniques, knot tying and casualty clearing, as well as working with heaving lines and manning the Zodiac.
Every mariner knows that weather is a crucial factor when planning for ships going to sea.  In this case, however, weather throughout the country played a direct role. Conditions in Eastern Canada at the beginning of January delayed and even canceled flights for many participants. This resulted in travel times up to 50 hours, requiring exercise planners to adapt the sequence of events and personnel changes in order to ensure valuable training time was not lost.
"You are always considering weather when planning any Orca sail, but particularly so at this time of year," said lead planning officer Lieutenant (Navy) Ron Clancy, HMCS York. "However, while we had several plans in place to mitigate inclement weather on the coast, including alongside training and alternative port visits, we did not expect to have so many people impacted by flight delays on their way here. It certainly called for some creative problem solving."
During week two, the ships were forced to seek shelter and go to anchor in Nanoose Bay as winds in the Strait of Georgia exceeded 30 knots. Despite the foul weather, sailors participated in seamanship training and damage control exercises while waiting for the storm to pass.
During their down time, sailors were able to enjoy some of British Columbia's port destinations including Nanaimo, Ganges Harbour, Gibsons Landing, and Vancouver.
The two-week Orca sail is the longest exercise of the Naval Reserve training calendar.
Filed Under: Top Stories
Comments (0)