By Lookout on Mar 19, 2018 with Comments 0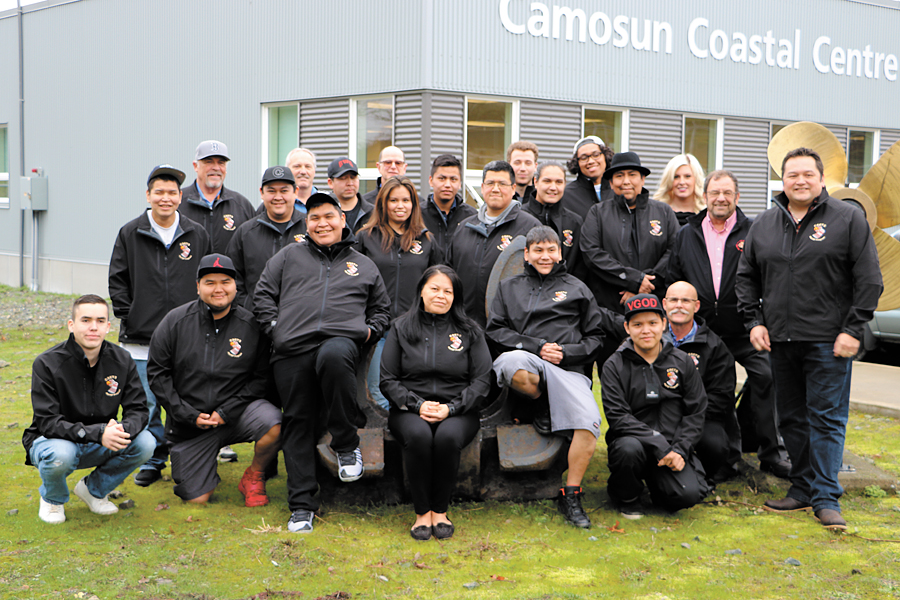 Peter Mallett, Staff Writer ~
Staff at Fleet Maintenance Facility Cape Breton (FMFCB) are playing a central role in a new educational program linking Aboriginal students to employment opportunities in Victoria's ship repair industry.
The Ship Repair Entry Level Training Program recently concluded a successful program launch in early February with the graduation of 16 participants drawn from the Coast Salish Employment and Training Society, 19 South Vancouver Island nations, and three Aboriginal Friendship Centres.
The three-month program is part of the Aboriginal Marine Training and Employment Partnership and is offered through the Coast Salish Employment Training Society and the Camosun Coastal Centre, formerly known as IMTARC, the Industrial Marine Training and Applied Research Centre, with the goal of providing certified training that leads to employment.
Michelle Traore, Manager of Camosun Coastal Centre, says the Ship Repair Entry Level Training Program allows students to learn the necessary skills to work in the ship repair industry, such as safety procedures, environmental awareness, technical know-how and problem-solving skills, geared to specific marine sector situations. FMF CB and other industry partners, including Seaspan Victoria Shipyard and Point Hope Shipyard, provided facility tours, guest speakers and real work experience. 
"The program is invaluable when it comes to training and linking Indigenous students with employment opportunities," says Traore. "Industry support is key to the success of this program and it really brings the learning they have done in the classroom to life."
The program was launched in November 2017 with the in-class component of the course conducted at the Camosun Coastal Centre. Instructors in the program include former FMF CB employees Dan Deringer, Ron Holmes, Brian Harris and Rob Reid.
During their time at the dockyard ship repair unit, students shadowed tradespeople for five days. Ian Baxter, FMF Group 2 and Apprenticeship Manager, says the experience was an opportunity to get their feet wet and experience a little bit of what each section in FMF has to offer.
"It was a positive experience for them and they got to see the inner-workings of the shipyard and the jobs and tasks tradespeople perform on an average day," he said. "It was a great experience for them because they got a first-hand chance to see what really goes on at the end of Esquimalt Road and our true capabilities in FMF."
Traore says passing through the security checkpoint at the HMC Dockyard gate and spending time in a government-operated repair facility seemed a little bit daunting to many of the students.
"Many students indicated they felt nervous working at a military base," said Traore. "But once they arrived the employees at FMF were so welcoming and accommodating that by the end of the experience many students  wanted to find a way to get a job there."
Kenneth Charlie of Esquimalt's Songhees Nation said working at FMF was an eye-opener to employment possibilities close to home.
"Completing my work experience at FMF opened my eyes to the variety of jobs that exist close to where I live," said Charlie. "I now feel confident about my skill level and would like to begin a career in the marine industry."
After graduation, 10 students received job offers from Seaspan, and two more are in the process of applying to FMF through its apprenticeship program, one for painting and the other for electrical.
For more about Camosun Coastal Centre and its SRELT Program: www.camosun.ca/ccc
Filed Under: Top Stories
Comments (0)