By Lookout on May 08, 2019 with Comments 0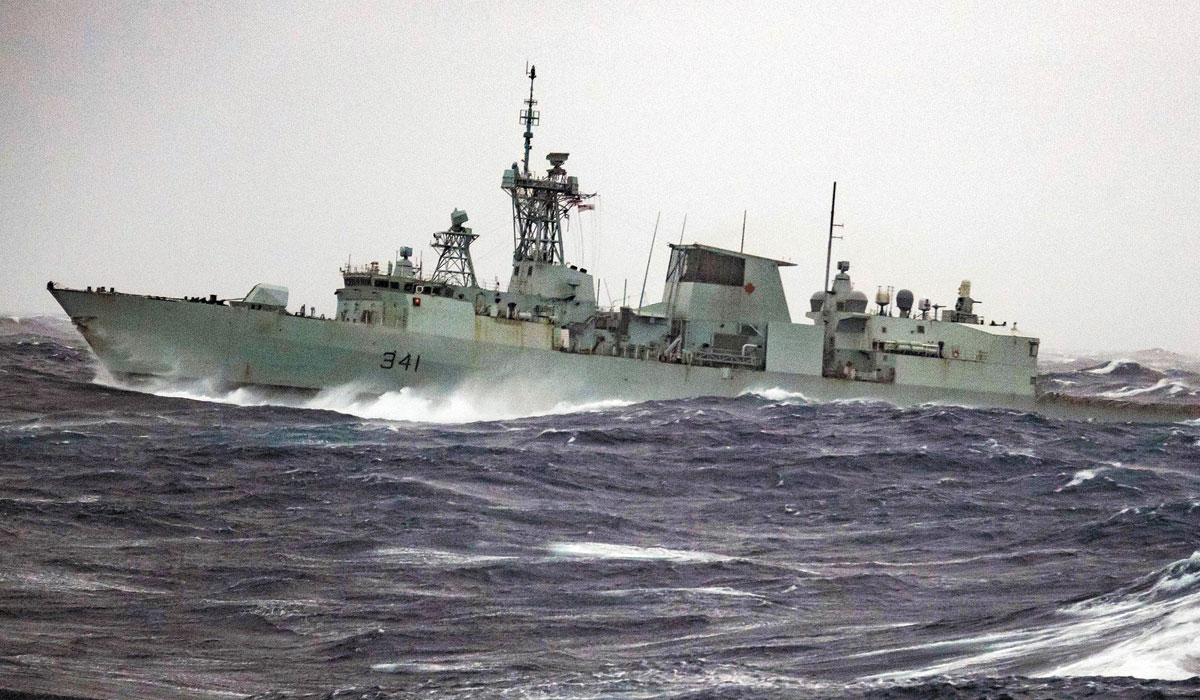 SLt Matthew Mooney, HMCS Ottawa ~
It takes a lot for a ship and crew to be ready to let go her lines and proceed to sea in support of Canadian operations around the world. The process begins the moment the ship returns from her previous deployment.
A warship is like a floating city that is constantly supporting its crew. After a long deployment overseas, the ship needs to proceed alongside for a maintenance period where anything that degraded overseas can be repaired or replaced.
Ottawa's road to readiness began in September when she and her crew returned from their summer deployment to Exercise Rim of the Pacific (RIMPAC).
During October of last year, work was conducted on a number of systems to bring the ship back up to its full fighting order. Both software and hardware was replaced in order to ensure that sailors would have the best equipment to support them on their missions.
But it isn't only the equipment that is changed.
The crew of a warship is dynamic; it is constantly being supplemented as crew members go on leave or career courses or get posted in and out. So, in addition to new equipment, there are always new personnel to train and mentor in their new roles or, in many cases, on their new ship.
Ottawa took the opportunity, while sailing for the Submarine Commander's Course in February to invite Sea Training (Pacific) to help mentor the team in an Assisted Ship Readiness Training (ASRT) program. During ASRT, Sea Training ran the crew, who in many cases was working together for the first time, through exercises designed to highlight areas for improvement for the future. The ASRT program aims to assist all of the different organizations in HMC ships. There are simulated warfare engagements, gun shoots, simulated boardings, and damage control exercises. All of these exercises help new and old members of the ship's company better understand their role in supporting the ship as a whole.
In addition to the training done at sea, Sea Training (Pacific) aids the west coast fleet to prepare for their upcoming operations by conducting focused training. For the bridge team, the bridge watchkeepers were brought to Naval Fleet School (Pacific) where they are given the opportunity to develop their bridge resource management skills and practice precision navigation. The simulators give them the opportunity to work out the small details and information flow that is so critical when conducting navigation in Canada or around the world.
In March, Ottawa's Naval Boarding Party conducted team training that was overseen by Naval Fleet School (Pacific) and Sea Training (Pacific). The purpose of this training focused on developing the 10-person team tasked by the Royal Canadian Navy to board and search vessels while on deployment. This training included weapons handling, tactical shooting, rappelling and close quarter battles.
In order to train the damage control organization, Ottawa's crew conducted training at Galliano in Colwood in April. Galiano is a state of the art facility where there are simulated burn rooms for the ship's company to practice their firefighting skills and flood tanks where sailors can practice leak stopping under safe and controlled conditions. This realistic training prepares sailors for the worst case scenarios they might face at sea.
In the coming weeks, Ottawa's operations department is going to conduct training to prepare for an upcoming deployment. This training will focus on detecting, localizing and tracking possible threats.
Additionally, Ottawa is going to conduct Chemical Biological Radiological and Nuclear threat training where the ship and crew will simulate being in a chemical attack. This will ensure the team is fully prepared for anything that might come their way in the future.
All of this training is being done with one goal: preparing the ship for their upcoming deployment. In order to determine if the ship is ready Ottawa will set sail once again in June with Sea Training (Pacific) embarked for Immediate Multi-Ship Readiness Training (IMSRT). During IMSRT the ship will be challenged in every way possible to ensure that the sailors are ready to help, ready to lead, and ready to fight.
Filed Under: Top Stories
Comments (0)