By Lookout on Nov 02, 2015 with Comments 0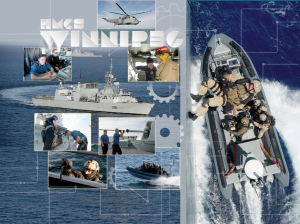 Sixteen naval reservists from across Canada deployed on board HMCS Winnipeg June 15 to support Operation Reassurance, Canada's contribution to NATO assurance measures in Europe.
"Our reserve members are integrating seamlessly into the ship's company," says Commander Pascal Belhumeur, Commanding Officer of HMCS Winnipeg.
"This deployment provides them with incredible exposure to unmatched training opportunities on board a modernized Halifax-class ship in real-time international operations."
These naval reservists represent a number of naval professions.
Three are currently serving on the Royal Canadian Navy's (RCN) first Enhanced Naval Boarding Party, a team that specializes in maritime interdiction operations.
For the past few years, the RCN has been transitioning into a "One Navy" concept that employs reserve and regular forces on operational missions.
Naval Reserve members have been deploying on major operations since late 2013, but Winnipeg is the first ship to employ reserve members in almost every department.
"As a naval combat information operator (NCIOP), I feel really lucky to serve in a warship that has the most modern warfare system," says Leading Seaman Jefren Liu, originally from HMCS York.
"Operating the updated Combat Management System is an experience that I may not have had without this deployment."  
Maritime surface and sub-surface officers in the Naval Reserve also tend to serve the majority of their careers in Kingston-class vessels.
This deployment has provided Sub-Lieutenant Michael Van Vlaenderen from HMCS Chippawa with a unique opportunity to sail on board a ship named after his home town while putting his skills to the test on a major warship.
"Every day and every evolution is a learning opportunity. The ships do things differently and it is important to always adapt," says SLt Van Vlaenderen.
"During my time in Winnipeg, I have had the opportunity to train for my Officer of the Day and Naval Officer Proficiency Qualifications [both Regular Force qualifications] and gain the experience of conducting multi-ship and task group exercises."
In addition to the training opportunities being made available to reserve members, Winnipeg's deployment is special because of the scope of its journey.
"We are extremely fortunate to get this opportunity to travel the world, learn a lot about different cultures and gain a ton of experience in our roles on board the ship," says LS Nicole Baldwin, an NCIOP from HMCS Unicorn.
"It is a dream come true. I couldn't imagine a better deployment opportunity."
To date, Winnipeg has stopped in 10 ports throughout the Mediterranean and Western Europe and this has given these reserve members an opportunity to take a special kind of break from their normal day-to-day training.
As these 16 sailors approach the halfway point of their deployment, they are establishing themselves as pioneers for naval reservists hoping to gain operational experience abroad at sea.
SLt Jamie Tobin
HMCS Winnipeg
Filed Under: Top Stories
Comments (0)