By Lookout on Feb 02, 2022 with Comments 0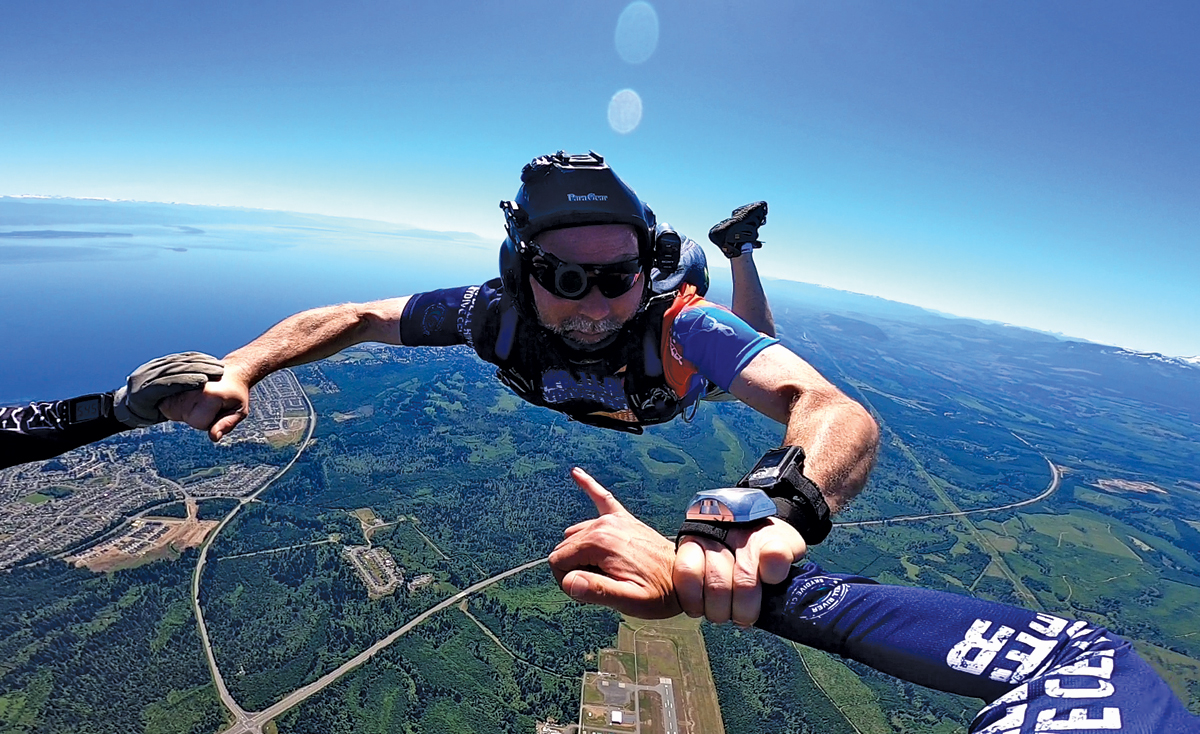 Peter Mallett
Staff Writer
––
Two former military members want veterans, current-serving members, and first responders dealing with issues of mental health and suicide to take a healing leap of faith with them.
Sgt (Retired) Rob MacNeill, former Canadian Airborne Regiment member, and MWO (Retired) Bob Verret, both diagnosed with PTSD before their release, are opening a skydiving camp in Campbell River, B.C, this summer dubbed Operation Pegasus Jump.
"I know from my personal experience that parachuting is the best therapy for injured airborne members, but it will also help others in their recoveries," says MacNeill. "This is a team-building exercise and is all about taking service members and first responders out of their comfort zones and presenting them with a challenge."
Participants can join a series of three four-day parachute and activity camps in July. The camp is an extension of their business called U4EO (Us For Each Other). Together, MacNeill and Verret operate five parachuting businesses and educational programs in Campbell River.
Operation Pegasus Jump is an opportunity for U4EO to give back to the military and offer former members a unique opportunity for some bonding and camaraderie, says MacNeill.
Pegasus participants will receive supervision and instruction from skydiving centre instructors and volunteers before making their jumps at elevations of 3,000 feet and higher from either a Cesna 182 Jump plane or A-Star helicopter. Former airborne regiment members will assist as volunteers. Those who have never jumped before will receive extra instruction, says MacNeill.
Registration is now open with 28 participants already signed up.
Operation Pegasus Jump will include a helicopter tour, fly boarding, a round of golf, and a barbeque. 
A fundraising campaign launched to help offset costs with a goal of $50,000. Funds raised will help pay for food, skydiving lessons, fuel, and other logistical expenses. The City of Campbell River is assisting their efforts with organizational and networking support with local businesses. The local Quality Inns hotel will provide participants and volunteers with reduced-rate accommodations.
For more information and how to support Operation Pegasus Jump visit their Facebook Page. 
About U4EO
The first operation formed by MacNeill and Verret was an Industrial Sewing School established in 2015. Its aim was to teach at-risk youth attending a local vocational high school, the Robron Centre For Lifelong Learning, an employable trade.
The two veterans also run a commercial industrial sewing service called Vertical Madness. It offers these same students the opportunity for a career in sewing, which could involve manufacturing or repairing everything from boat and car parts to gymnastics equipment and fall restraints for seniors. Other U4EO operations include a parachute rigging school and a business called Flying High, which MacNeill says is the only parachute container manufacturer in Canada.
MacNeill and Verret also own and operate the Campbell River Skydive Centre, which he notes is one of a few remaining training facilities in the country and the only one run by veterans.
"Our Industrial Sewing School was really where we started things and after partnering with the school district we have been working tirelessly to help as many people as we can," says MacNeill.  
––––
Filed Under: Top Stories
Comments (0)