By Lookout on Oct 30, 2020 with Comments 0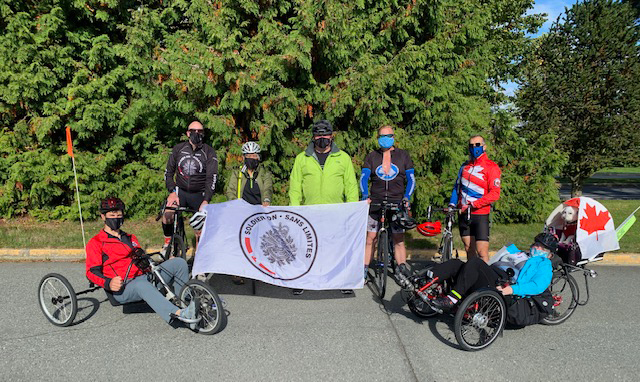 Peter Mallett
Staff Writer
––
Ill and injured Canadian Armed Forces members and veterans have not been forgotten during the pandemic.
Soldier On programs resumed on the West Coast this month with two morale-building events, rounds of golf at Highlands Pacific Golf and a cycling clinic at the University of Victoria.   
The goal is to help them adapt and overcome both physical injuries through participation in sports and physical fitness activities.
Much of the events were halted in March with the onset of COVID-19, but with strictly enforced health and safety protocols these two events were able to happen.
"The pandemic has provided far fewer opportunities to let participants experience physical activity and social interaction as part of their recovery from their injuries," said Joe Kiraly, Senior Manager of Soldier On.  "It is great to be able to resume some of our operations again, albeit on a reduced scale. All of our events going forward will also adhere to strict COVID-19 precautions that will provide a safe environment for participants."
Dana's Story
The return of the Oct. 11 Soldier On cycling clinic was a big relief for 2Lt (Retired) Dana Batho. The former Intelligence Officer with the Royal Canadian Air Force suffered serious back and neck injuries during a training accident seven years ago and has lived with intense paint ever since.
Prior to her injury she enjoyed gymnastics, Highland dancing and weightlifting, but says none of that is possible now.
Since her pain is likely permanent, and modern medicine has failed to alleviate her condition, she says the relief from her woes has come through cycling.
With assistance from Soldier On, she has acquired a custom-designed, three-wheeled recumbent bicycle. On days when the pain isn't too intense she and her service dog Coco go for long bicycle rides on the Capital Regional District's expansive recreational trail system.
She and Coco attended the clinic hosted by Peter Lawless, Canadian Olympic Committee Vice-President, and members of the Triple Shot Cycling Club.
After an introduction to bicycle maintenance and basic cycling techniques, riders set out to cycle around Ring Road, which is approximately three kilometres around the campus. Batho says it was great to get outdoors and meet new people, and that she and her Dachshund Maltese mix, who rides with her while perched in a small pouch above her head, thoroughly enjoyed the experience.
"Getting to participate in the clinic from a physical activity point of view was great and the camaraderie Soldier On provided was huge," said Batho. "When you leave the military you lose the people who have essentially become like family members and you feel disconnected. The camp provided me an opportunity to reconnect and that was something I have been missing."
All Out 'Fore' Golf
Ten days earlier the same opportunity was provided on the links at Highland Pacific Golf Course, an 18-hole golf course that features scenic views of the Olympic Mountains and Strait of Juan de Fuca.
The day-long clinic also followed strict physical distancing guidelines with mandatory masks, only one golfer per cart permitted, and no high fives, handshakes, or handling other athlete's golf balls or equipment.
An educational briefing was given by golf club pros, Callum Ashby, winner of the PGA of B.C. Apprentice of the Year Award, and Jeff Palmer, a former golf professional with 28 years of golf teaching and management experience around the world.
After 90 minutes of instruction participants hit the links for a round of golf.
Palmer, also the General Manager of Highland Pacific, said he was delighted to help support the Soldier On program with complimentary instruction.
"As a proponent of mental health and physical fitness and big supporter of our troops, I was more than happy to assist Soldier On," said Palmer. "Golf is a great way to help people recovering from injuries and since Highland Pacific values community outreach initiatives we thought this was an excellent cause to support."
For more information about Soldier On and its programs visit their website www.soldieron.ca
––––
Filed Under: Top Stories
Comments (0)