By Lookout on Apr 14, 2014 with Comments 0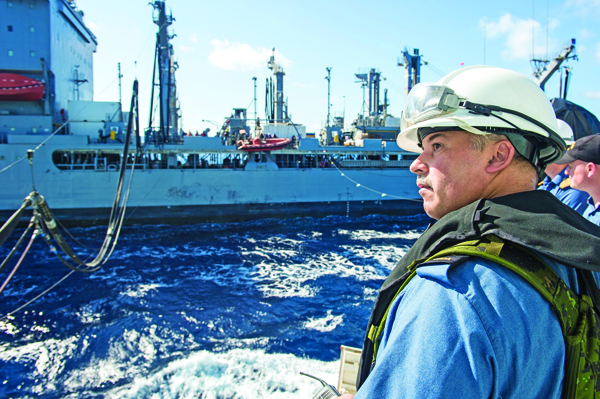 HMCS Regina conducted a replenishment at sea (RAS) with United States Naval Ship (USNS) Joshua Humphreys off the coast of Somalia during Operation Artemis counter-terrorism and maritime security operations on April 2.
This was Regina's first RAS with one of its Combined Task Force 150 (CTF 150) coalition partners during this deployment. Although there were some differences with respect to how each navy performs this challenging evolution, this was offset by the high level of interoperability and familiarity between the United States Navy (USN) and Royal Canadian Navy (RCN).
"The capabilities and professionalism displayed by USNS Joshua Humphreys were very impressive and the RAS went off without a hitch," said Lieutenant-Commander Gordon Roy, Executive Officer of Regina. "All of the CTF 150 coalition partners and participating nations benefit from sharing each other's knowledge and expertise of the unique operational and logistical challenges posed by the Op Artemis Joint Operations Area."
The RCN participates in numerous joint operations and naval training exercises with the USN and other allied navies on a frequent basis and this pays dividends during high profile overseas deployments such as Op Artemis. The long standing relationships established during these operations and exercises enhances mutual trust and confidence in each other's capabilities and platforms.
"Our ability to sustain these kinds of operations at sea over a prolonged period requires significant logistical support from ashore or from a RAS-capable warship at sea like USNS Joshua Humphreys," said Commander Dan Charlebois, Commanding Officer of Regina. "Being able to RAS with one of our CTF 150 coalition partners keeps us in the fight so we don't have to leave our designated area of operations to obtain fuel ashore in a foreign port."
-Lt(N) Mark Fifield, Op Artemis Roto 4 PAO
Filed Under: Top Stories
Comments (0)