By Lookout on May 31, 2017 with Comments 0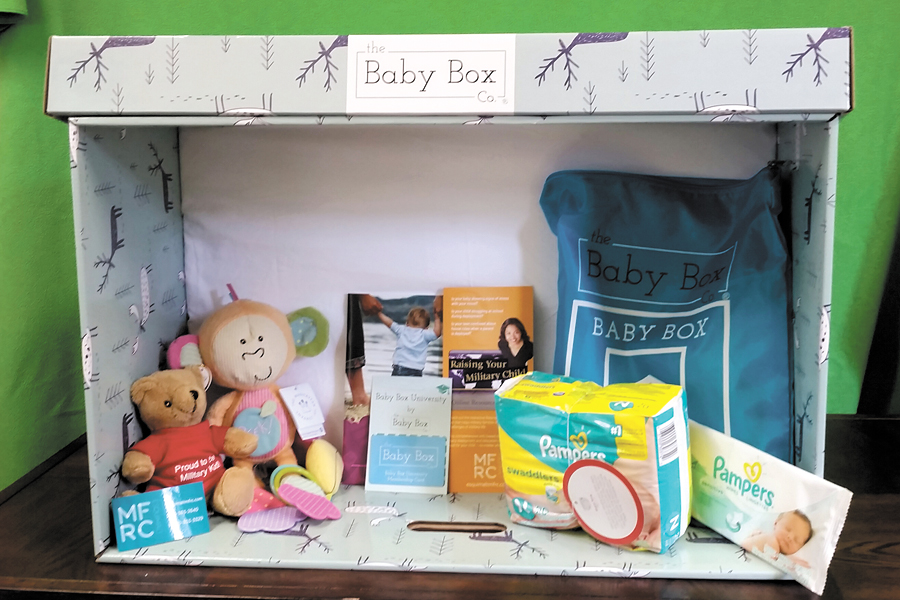 Peter Mallett, Staff Writer ~
The Military Family Resource Centre (MFRC) is making baby boxes available to new and expecting military parents, free-of-charge, beginning May 29.
Designed for infants under the age of six months, the baby boxes contain a custom-made mattress that can be used with the box as a bassinet, a onesie, diapers, wipes, nursing pads, baby lotion, plus an assortment of discount coupons.
"This latest program we are offering is another great way the MFRC is connecting and supporting military families with new children," said Scott Branch, MFRC Children's Service Coordinator. "The boxes are essentially a starter kit for new parents."
MFRC staff have also added reading materials on breastfeeding, raising a military child, and information on family care support programs available in the community.
The baby boxes are inspired by an initiative that began over 75 years ago by the government of Finland and their efforts to address alarming infant mortality rates. The self-contained boxes distributed to mothers served as a care package and also as a bassinet, and in the end helped greatly contribute to a downward trend in the infant mortality rate.
The boxes meet Health Canada Standards and are manufactured by the Baby Box Co. They normally retail for approximately $150. Branch said there are currently 60 baby boxes in stock and the company will supply more as needed.
To obtain a baby box, military families must first register for the program through a link on the MFRC website at www.esquimaltmfrc.com/welcoming-baby-box/. It is recommended that families pick up their box in advance of their due date or in the first three months after the birth of the child.
Filed Under: Top Stories
Comments (0)