By Lookout on Aug 13, 2016 with Comments 0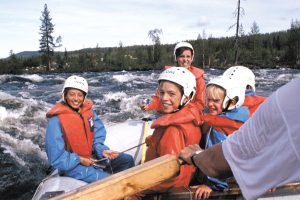 Rachel Lallouz, Staff Writer ~
The Victoria Joint Rescue Coordination Centre (JRCC Victoria) in Esquimalt is the joint Canadian Armed Forces-Canadian Coast Guard Centre for Search and Rescue (SAR) monitoring, alerting, and emergency response.
Each year, the Victoria JRCC responds to an average of 3,000 calls for assistance. Calls are attended by Royal Canadian Airforce members specializing in aeronautical emergencies and the Canadian Coast Guard who specialize in marine rescues.
General safety tips while operating smaller pleasure craft
Major Justin Olsen, Officer in Charge at the JRCC Victoria, explains that as the weather improves in the summer, often those with ample experience paddling on lakes decide to try taking their canoes out on the ocean.
"But the ocean is a different animal," he says. "The ocean subjects the paddler to tides, winds, and often unpredictable waves that may quickly build in size to over two or three feet. Paddlers often find themselves in challenging sea states."
Every year, notes Major Olsen, the JRCC responds to calls from concerned citizens on land or at sea who have spotted an upturned canoe and paddler requiring a rescue.
"For anyone choosing to go out onto the ocean, it is extremely important to bring your safety gear," he says. "Wear your life jacket. Bring a radio. Make sure someone knows where you are going and when you will be coming back."
He also stresses that mariners ensure their vessels are well maintained to avoid break downs and consequent drifting while at sea.
"It's all about preparedness," says Major Olsen. "There are preventable accidents and mistakes we can prepare to avoid."
Use a radio while at sea
Unlike larger commercial or fishing vessels, small pleasure craft are not required to bring radios on board, but in the event of an emergency, the radio allows the skipper of a vessel to reach a wide audience quickly and within a range of strong networks.
"The FM radio is specifically designed to be used in maritime traffic channels," says Major Olsen. "You can turn to the distress channel, which is channel 16, immediately if a problem arises."
Additionally, explains Captain Gregory Clarke, Air Search and Rescue Coordinator at the JRCC, a large number of search and rescue hours performed by the JRCC revolve around boaters who have not communicated a definite plan to a contact on shore.
"Without a radio, and once out of a cellphone's range, these boaters cannot communicate changes in their boating plans," explains Capt Clarke. "Loved ones often call us expressing their concern or to report the boaters as missing."
Aircraft owners: Update your emergency locater transmitters
Every aircraft is required to carry an emergency locater transmitter (ELT) that serves as an alarm to emergency response stations that a plane is in distress. But smaller, privately owned aircraft are not mandated to have the new styles of ELTs that can provide the emergency response stations with information about the aircraft owner, how to communicate to them, and the aircraft location.
"If the newer versions of ELTs go off, I can track down over the phone who owns the aircraft to make sure they don't need help," says Major Olsen, who adds that older versions of ELTs are often accidentally turned on during plane renovations on the tarmac, or due to a dying battery, turn on and off by themselves.
Rather than waste precious resources and time attempting to locate and communicate with the aircraft with an activated, older version of an ELT, Major Olsen recommends that pilots upgrade their ELTs to newer versions.
Filed Under: Top Stories
Comments (0)