By Lookout on Feb 02, 2015 with Comments 0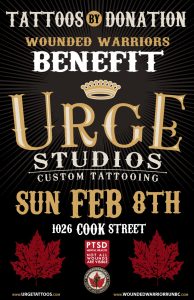 In support of military veterans, Urge Studios, a downtown Victoria tattoo studio, will donate 100 per cent of their sales made from inking two special tattoos all day Sunday, Feb. 8.
Proceeds will go to Wounded Warriors Canada.
Those participating will choose from smaller, pre-drawn tattoo designs of the maple leaf or Canadian Flag, and will be invited to make a suggested minimum donation of $60.
Tattoos are expected to take between 10 and 15 minutes. All Urge's artists will be on-hand to meet patron demand.
Urge Studios was founded in 1995 by Canadian Armed Forces airborne trooper Johnny Faulds, and the current owner, Sparky (Mark Adamson) has continued the legacy Faulds established in supporting the military community.
Sparky says Faulds taught him how to tattoo.
"I was John's apprentice. When the shop originally opened, John and the  other artists tattooed a lot of guys in the military. Over the years we've kept that up that tradition."
Sparky also has deep ties to the mission of  Wounded Warriors Canada, a non-profit organization that helps Canadian Armed Forces members – be they regular force or reservists – who have been wounded or injured in their service to Canada.
After years of tattooing men and women who had been deployed, Sparky has heard his fair share of stories.
"I take them to heart, and I want to help out in any way I can."
Sergeant Dan Bodden, currently posted to the Canadian Forces Fleet School Esquimalt in the Language Training Division, will be getting tattooed at Urge.
He is one of the founding members of Wounded Warrior Run B.C. (WWRBC).
The run was established last year to increase public awareness of PTSD and raise funds for the foundation.
The 600-kilometre run takes place Sunday, Feb. 15 to Friday, Feb. 20.
A team of six relay runners, ages 24 to 45, will run from Port Hardy to Victoria.
"I wanted to do something to give back to the veterans, I'm a big fan," he says of his tattoo venture.
His participation in the WWRBC has developed from being a coach and an athlete.
"I have found physical activity is not just training for your body, but training for your mind. I know a number of veterans who address their issues through physical activity."
He hopes events such as the WWRBC and tattoo fundraiser will encourage positive conversation about the effects of PTSD and other mental illnesses.
"Emergency room personnel, kids, and teachers – anyone who has experienced something traumatic knows mental illness seems to have a social stigma about it."
Sgt Bodden is looking forward to getting a tattoo of his own for the charitable cause.
"I have a number of them on my arm. I knew it was just a matter of time before I got another one."
He will be getting a vintage maple leaf on his left rib cage.
For more Information on the run go to www.woundedwarriorrunbc.com
Rachel Lallouz
Staff Writer
Filed Under: Top Stories
Comments (0)