By Lookout Production on Dec 25, 2022 with Comments 0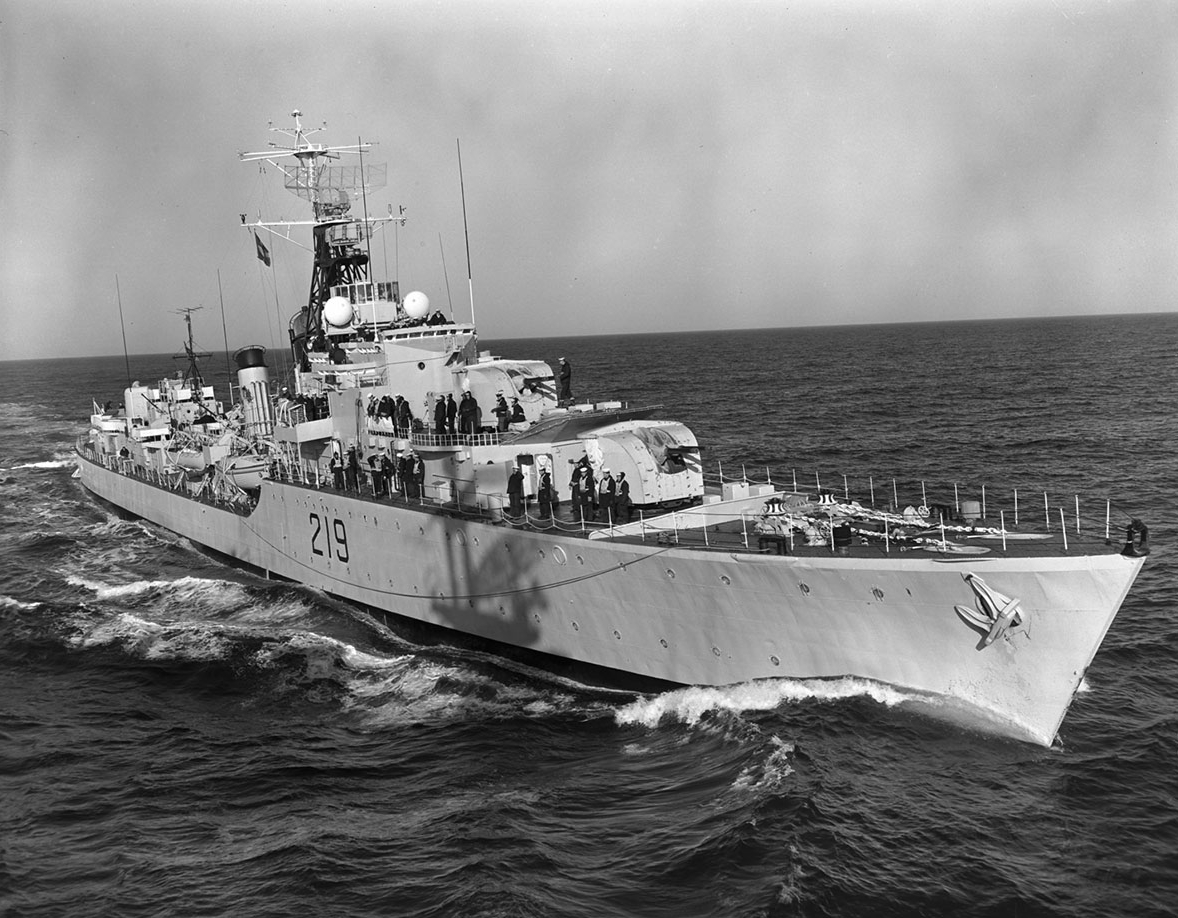 From the Archives: 
Stories from the CFB Esquimalt Naval and Military Museum
—
Christmas 1943 was just another routine day at sea for the Tribal-class destroyer HMCS Athabaskan during the Battle of the Atlantic.
The festive holiday found the ship's company and her Commanding Officer, Lieutenant-Commander (LCdr) John Stubbs, bucking heavy seas while accompanying Convoy RA-55A somewhere northwest of Bear Island, Norway. The crew were tired, fed up, had not received any mail, and their nerves were stretched taut as they waited for a possible attack.
On Dec. 23, 1943, Athabaskan left Kola Inlet with her sister escorts. They were tasked with shepherding a convoy of 22 merchant ships and sailed westbound to Loch Ewe, Scotland. As this group of vessels moved slowly north through the Arctic night into the Barents Sea, the sailors on board were unaware that the convoy was acting as a piece in a giant chess game. This strategic battle resulted in the sinking of the German warship Scharnhorst.
Scharnhorst was one of the most dangerous German ships in the conflict, one of the Allies' most wanted warships, and the last of her kind. In late December 1943, she was sunk in the Battle of North Cape after attempting to intercept two Arctic convoys.
HMCS Athabaskan did not participate directly in Scharnhorst's destruction; the ship may have been side-lined due to ongoing condenser problems. LCdr Stubbs was disappointed; he had confidence in his ship and crew and knew that Athabaskan could have contributed significantly to the battle. Yet, with the major enemy threat destroyed, men could celebrate a belated Christmas.
In an account of this impromptu party by Len Burrows, author of "Unlucky Lady – The Life and Death of HMCS Athabaskan", he notes:
"….makeshift Christmas trees were put up in different places and simple gifts were exchanged. Parcels of food were shared to make it a festive occasion. There was loud singing all over as the Athabaskans joined in a spirit of fellowship."
Burrows, whose youngest brother Leading Seaman William O. Burrow, served in Athabaskan, writes that LCdr Stubbs had acquired a substantial supply of beer and liquor for his men, and soon it began to flow. The youngest man aboard Athabaskan, Able Seaman John W. Fairchild, became Commanding Officer for the occasion and walked around the decks wearing the Captain's uniform.
By New Year's Day 1944, having safely brought Convoy RA-55A to its destination at Loch Ewe, Athabaskan was on her way to Scapa Flow for hull inspection and minor repairs.
In an illustrated letter to a friend in his home community of Hamilton, Ont., Signalman William G. Stewart gave his amusing impressions of Athabaskan's belated Christmas party. For many of the participants in that party, it was the last Christmas they would ever celebrate, at sea or on land.
The following Spring, on April 29, 1944, at about 0300 hours, Athabaskan was torpedoed and sank. The ship was patrolling with her sister Tribal-class destroyer Haida in support of a British minelaying operation off the coast of France near the mouth of the Morlaix River when she was ordered to intercept German warships near Ile de Bas. 128 men were lost, 44 were rescued by Haida and 83 were taken prisoner by three German minesweepers sortied from the coast after Haida's departure.
Among those missing and presumed dead were Signalman Stewart, V-8866, and LCdr Stubbs, who was killed in action after he declined to be rescued by Haida so that he could swim back to his ship to try and save more crew members.
To learn more about the history of HMCS Athabaskan, visit the CFB Esquimalt Naval and Military Museum. or visit navalandmilitarymuseum.org.
Filed Under: Top Stories
Comments (0)