By Lookout on Apr 22, 2016 with Comments 0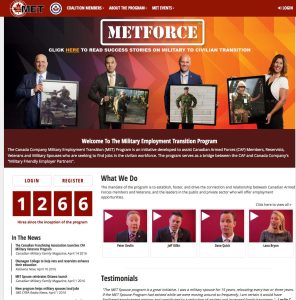 DND
Canada Company, the leader in military employment transition, in partnership with Military Family Services, has launched the METSpouse Program – a pilot program connecting the spouses of active, reserve and retired members of the Canadian Armed Forces with transportable careers.
Leveraging Canada Company's Military Employment Transition (MET) program, METSpouse will focus on providing this untapped resource of highly skilled, adaptable and motivated employees with career training, mentorship opportunities, and a database of mobile, portable and "telecommutable" jobs that fit the realities of being a military spouse.
"The METSpouse Program recognizes that the spouses of our military and veterans face unique employment realities and challenges," said Canada Company President, Angela Mondou. "For Canada Company, METSpouse is a chance to put our expertise to work for the whole military family, and to create more opportunities for Canadian businesses to benefit from our remarkable military."
The METSpouse Program will help military spouses find gainful and meaningful opportunities through an already established network of national employers.
As part of the pilot, METSpouse is now available at select Military Family Resource Centres in seven regions across Canada: Ottawa, Halifax, Montreal, Shilo, Toronto, Valcartier and Winnipeg.
For more information visit:
www.canadacompany.ca/canadacompany/met/en/index.jsp
Filed Under: Top Stories
Comments (0)