By Lookout on Aug 07, 2018 with Comments 0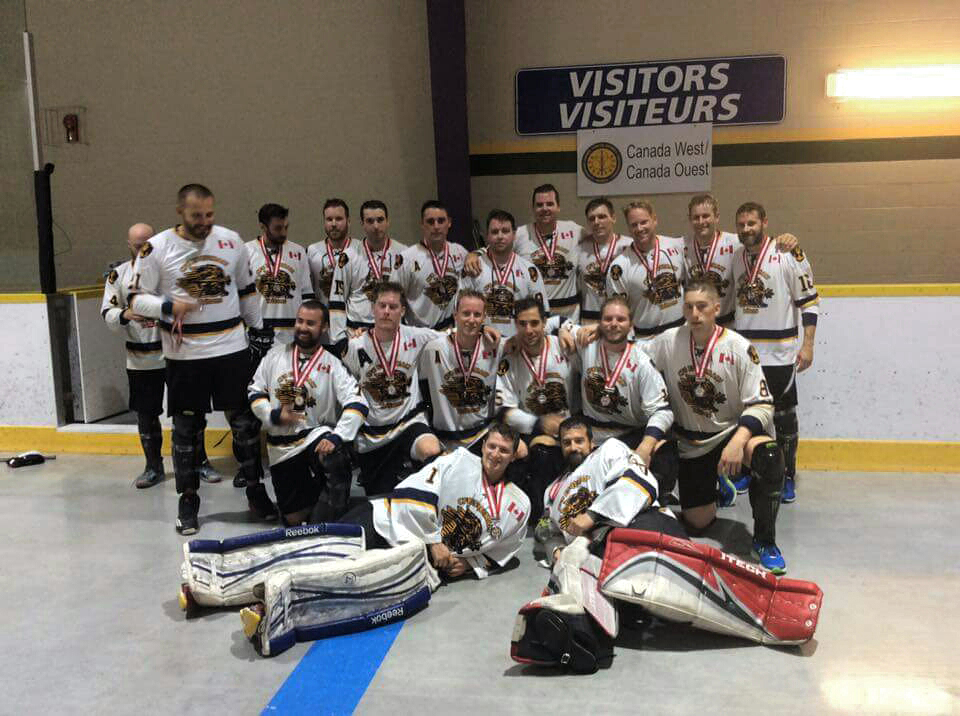 Peter Mallett, Staff Writer ~
The Esquimalt Tritons overcame a winless start at the Canadian Armed Forces Ball Hockey Championship at CFB Borden to capture the tournament's silver medal.
The Canada West's representatives from Esquimalt suffered three consecutive losses in the tournament's round robin phase, but rallied with two playoff victories.
On Aug. 1 they scored an 8-4 win over CFB Kingston, who represented the Ontario Region, and then later that day got a 4-1 victory over CFB Greenwood of the Atlantic Region in the semi-final game.
In the Aug. 2 championship game the Tritons fell 5-2 to Quebec Champions from CFB Bagotville but still managed to capture the tournament's silver medal.
Player-coach Master Seaman John Helpard, says getting the team's runner-up medal after the final buzzer was a special moment for him and five of his teammates, who have played with the Tritons for the past 11 years and have had little to crow about.
"This is the team's first appearance ever in a final since I've been playing and everyone is very excited to be going home with a silver medal," said MS Helpard, who works as combat instructor with the Naval Personnel Training Group. "This is a huge milestone for us. Our opponents from Quebec had an amazing team and deserve full credit for their victory."
Esquimalt qualified for the nationals after defeating Cold Lake in the Canada West regional qualifying tournament championship game on June 14 at CFB Wainwright. MS Helpard said the Tritons' playoff success at the nationals could be attributed to making use of their entire roster of players during the round robin phase. This was a game-changer as the tournament wore on because it allowed his players to get the necessary playing time and jell together as a team, while also allowing key players to save their energy for the playoffs.
MS Helpard says the Tritons relied on some key individual performances to turn things around.  Lieutenant (Navy) Braden Casper, was converted from centre to a key play-making winger for the tournament which significantly boosted their goal production. Also Lieutenant Olivier Demers of CFB Moosejaw, a goaltender, was able to join the team as a "pick-up" player after the Canada West Tournament. He shared his playing time in the opening games and won single game MVP honours in the final two games as a starter.
For more information, results and highlights of tournament action visit the Canadian Armed Forces Sports Facebook page at www.facebook.com/CAFSports
Filed Under: Top Stories
Comments (0)