By Lookout on Aug 12, 2016 with Comments 0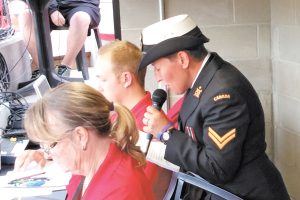 Peter Mallett, Staff Writer ~
LS Josée Cholette normally spends her spare time patrolling the 90 feet of dirt between second and third base, but recently she presided over a different spot at the ballpark.
This time the shortstop for the Esquimalt Triton women's slo-pitch team had a bird's-eye view of the field after earning starter's role as a French-language public address announcer for three days at the Women's World Softball Championships.
She was the voice behind the microphone for opening day festivities on July 15, and then again on July 23 and 24, announcing team lineups, batters and final scores and statistics to the crowd and closing ceremonies at Surrey's Softball City Sports and Entertainment Complex.
It was her first experience working as a support staff member at a major international sporting event and one which she says she thoroughly enjoyed.
"I was initially a little nervous and had some butterflies because I had never been in front of a microphone, but then I realized just like on the field, it's all about teamwork in the press box," she says. "After my initial first-inning jitters I gradually began to feel more comfortable because I know baseball, and the important information that is necessary to convey to the crowd. I think I did a good job."
LS Cholette, 45, grew up in suburban Montreal and said one of her most emotional moments during the tournament was announcing the lineups for France's national team in their opening game against Venezuela and the universally heart-felt moment of silence prior to the opening ceremony. That's because France's game occurred less than 24 hours after the terrorist attack in Nice that killed 84 people, and LS Cholette noted at least three or four members of the team hailed from the picturesque southern seaside town.
"It was an extremely sad moment and difficult time for them, but I heard from Softball Canada's Committee that their friends and family were safe," said LS Cholette.
She also won't forget some happier moments such as when the New Zealand's team stepped forward and donated proper baseball cleats to Kenya's first-ever team at the softball worlds, which until that point had been wearing flat-soled running shoes.
Another highlight was announcing the United States' gold-medal victory over Japan.
After the final day action LS Cholette said she was excited to meet with the players from Japan and the United States following the gold medal match along with members of Canada's team, which won the tournament's bronze medal.
LS Cholette extended her thanks to commanding officer, Lt(N) William Boulet for allowing her release to participate in the tournament, and event organizers for their outstanding support and instruction.
Officials from Softball Canada have already discussed the possibility of LS Cholette assuming the same duties at next year's Canada Cup international softball tournament in Surrey, an offer which she says she is very interested in pursuing.
Filed Under: Top Stories
Comments (0)