By Lookout on Feb 18, 2019 with Comments 0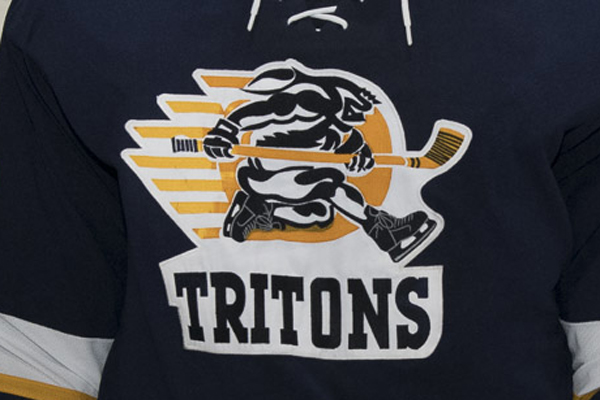 Peter Mallett, Staff Writer ~
Three Esquimalt Tritons hockey teams completed a rare triple win of Canada West regional championship titles this month after the women's team struck gold in Winnipeg on Feb. 13.
Esquimalt capped off the remarkable feat after being crowned women's champs at this year's regional qualifier with a 3-2 overtime victory over CFB Edmonton. The Tritons went undefeated over three games with a 4-1 win over Cold Lake in their opening game followed by a victory over tournament hosts CFB Winnipeg in the semi-finals.  They now advance to the Canadian Armed Forces Women's Hockey Championship in Edmonton, March 2 to 4.
Tritons Old Timers team
The latest hockey title for the women's team comes on the heels of the Tritons Old Timers team capturing the Canada West Regionals title with a 5-0 win over hosts Cold Lake on Feb. 7.
Esquimalt went undefeated over four games in the six-team tournament and outscored their opposition with a combined score of 30-2.
Tritons forward, Captain (Navy) Jason Boyd captured the championship game's Most Valuable Player (MVP) award after scoring the first two goals in the final. Esquimalt goaltender Petty Officer Second Class Marc-Andre Bibeau was named overall tournament MVP after recording two shutouts and allowing just two goals in four games.
The Canada West regionals served as their qualifier for the Canadian Armed Forces National Old Timers Hockey Championship at CFB Edmonton, March 2 to 7. Triton's Team Manager and Assistant Captain, Petty Officer First Class Robert Tibbetts says the team's success came after months of preparation including playing in senior men's tournaments in Port Hardy, Richmond, and here in Victoria.
"It was a great team win as we fulfilled our goal of competing in the national finals," said PO1 Tibbets. "Our goal since the beginning of the season has been to improve our team from last year, get to the nationals and bring a gold medal home to Esquimalt."
PO1 Tibbetts says the Tritons have a "significant chance" at a national title this year while also noting several long-serving members of the team say this year's Tritons are the most skilled and cohesive team they have seen at the base in years.
The Tritons won last year's smaller two-team Canada West Regional tournament by sweeping Comox in their best-of-three series. Esquimalt then went winless over four games at the 2018 CAF Nationals, which was won by CFB Shearwater. 
Tritons Men's team
On Feb. 1 Esquimalt hoisted its first regional hockey trophy of the month when the men's open age team scored a come-from behind 5-4 win over CFB Edmonton in Wainright, Alta. The winning goal came from Lieutenant (Navy) Edric Lim, a Logistics Officer with HMCS Ottawa.
The Triton's men's team travels to Edmonton for CAF Men's Hockey Championship action Feb. 23 to 28.
Filed Under: Top Stories
Comments (0)