By Lookout on Jun 12, 2017 with Comments 0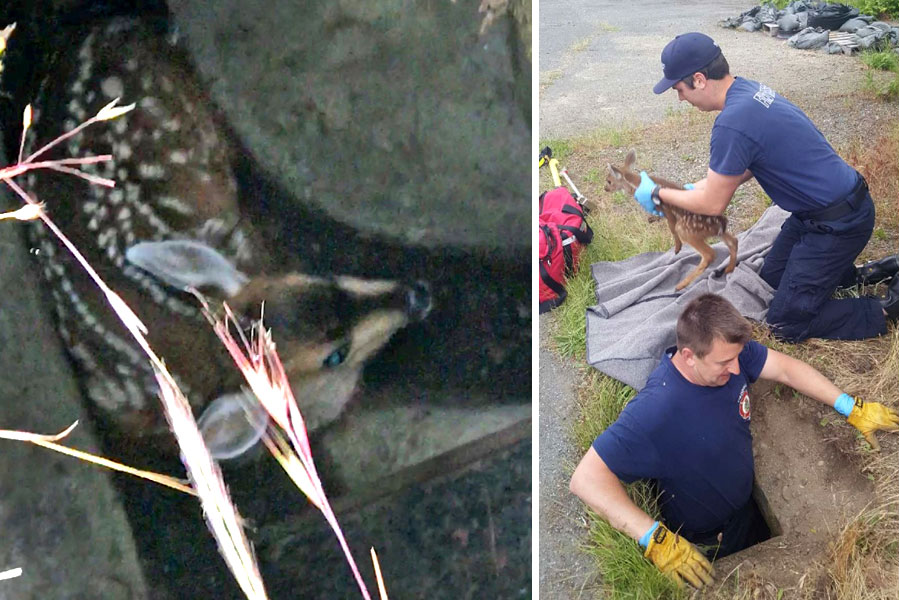 Will Chaster, MARPAC PA Office ~
Animal handling isn't a skill most firefighters expect to develop, but some members of the CFB Esquimalt Base Fire Hall can put that on their resumes following their actions on  June 7.
Around 6:30 p.m. a call came in from a couple out for a walk near Work Point who had found a fawn stuck in a water catch basin.
Four members of the Base Fire Hall responded to the call.
When they arrived they realized the drain was too deep to simply reach down and get the baby.
With the mother deer watching from a nearby field, Firefighter Tyler Werbowski shimmied down into the hole.
"I stroked the fawn's head a bit and then picked it up. It was pretty docile and didn't struggle or anything which was good," said Werbowski.
He then passed it up to Firefighter Ben Josephson who lowered it to the ground. As soon as its hooves hit the soil the fawn bounded off into the bushes, evidently none the worse for the wear.
"We were just happy the little guy was okay," said Firefighter Josh Peterson.
While the mother deer didn't say thank you, the situation drew praise from their supervisor.
"I'm really proud of these guys, they handled the situation very well," said Geordie Douglas, Deputy Fire Chief.
While this isn't quite in their job description, it's quite the "en-deer-ing" story that the firefighters will remember for some time.  
Filed Under: Top Stories
Comments (0)