By Lookout on Nov 19, 2012 with Comments 1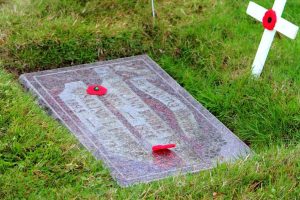 This past Remembrance Day, a ceremony was held at the Royal Oak Burial Park in Saanich commemorating a little known holder of the Victoria Cross (VC), the Distinguished Service Order (DSO) and the French Ordre national de la Légion d'honneur – Commander Rowland R.L. Bourke.
Amidst the cold, windy, wet morning, military members, Bourke family members, and local media watched as a contingent from HMCS Malahat placed a Naval Reserve memorial wreath on Cdr Bourke's small grave marker.
Local historian MWO (Retired) Bart Armstrong addressed the crowd, explaining that the cemetery is planning on erecting a larger, more appropriate marker for Victoria's sole VC holder. They hope to reveal the new marker on May 10, 2013, the same day a newly refurbished monument in the city of Ostend, Belgium, will be unveiled to mark the 95th anniversary of the battle at that seaport.
Cdr Bourke received his medals for saving the lives of 41 servicemen during the 1918 spring raid on the Belgium port of Ostend, a key German U-boat base. In April 1918, the Royal Navy initiated a bold raid on the Belgian ports of Zeebrugge and Ostend, which were both heavily defended German U-boat pens. During the first raid on Ostend on April 23, 1918, Bourke volunteered his Motor Launch (ML); he then rescued 38 sailors while towing another crippled ML behind him. For these valiant actions, he received the DSO.
During a second raid on May 9-10, because of Bourke's relentless persistence, he managed to refit his vessel and find a new crew to again head into battle. While engaging the enemy's machine guns on both piers with Lewis guns, he searched for survivors, initially finding none, but then heard cries in the water. He re-entered the harbour, and saved Lieutenant Sir John Alleyne and two ratings from the water. His motor launch was hit 55 times with two crewmembers being killed and others wounded.   
On Aug. 28, 1918, the London Gazette wrote: "This episode displayed daring and skill of a very high order, and Lieutenant Bourke's bravery and perseverance undoubtedly saved the lives of Lieutenant Alleyne and two of the Vindictive's crew."
Bourke received the VC from King George and was also awarded the Ordre national de la Légion d'honneur by the French Government and was promoted to Lieutenant-Commander.
After the First World War, LCdr Bourke became a civilian clerk at HMC Dockyard in Esquimalt, but re-enlisted in 1941. He was instrumental in forming the "gumboot navy" of fishermen used to patrol the B.C. coast. He died in 1958 with full military honours.
His former residence is a designated heritage building at the corner of Lyall and Admiral Streets, now a bed and breakfast.
Bourke typically shied away the spotlight, and upon arrival back in Canada he asked his family not to contact the press about his achievements. His name is not included on the Government of Canada's Victoria Cross website, most likely because, although he was Canadian, he served for the English military and received his VC directly from the King of England.
A/SLt Ron MacDougall, BPAO Trainee
Filed Under: Top Stories
Comments (1)