By Lookout Production on Feb 27, 2023 with Comments 0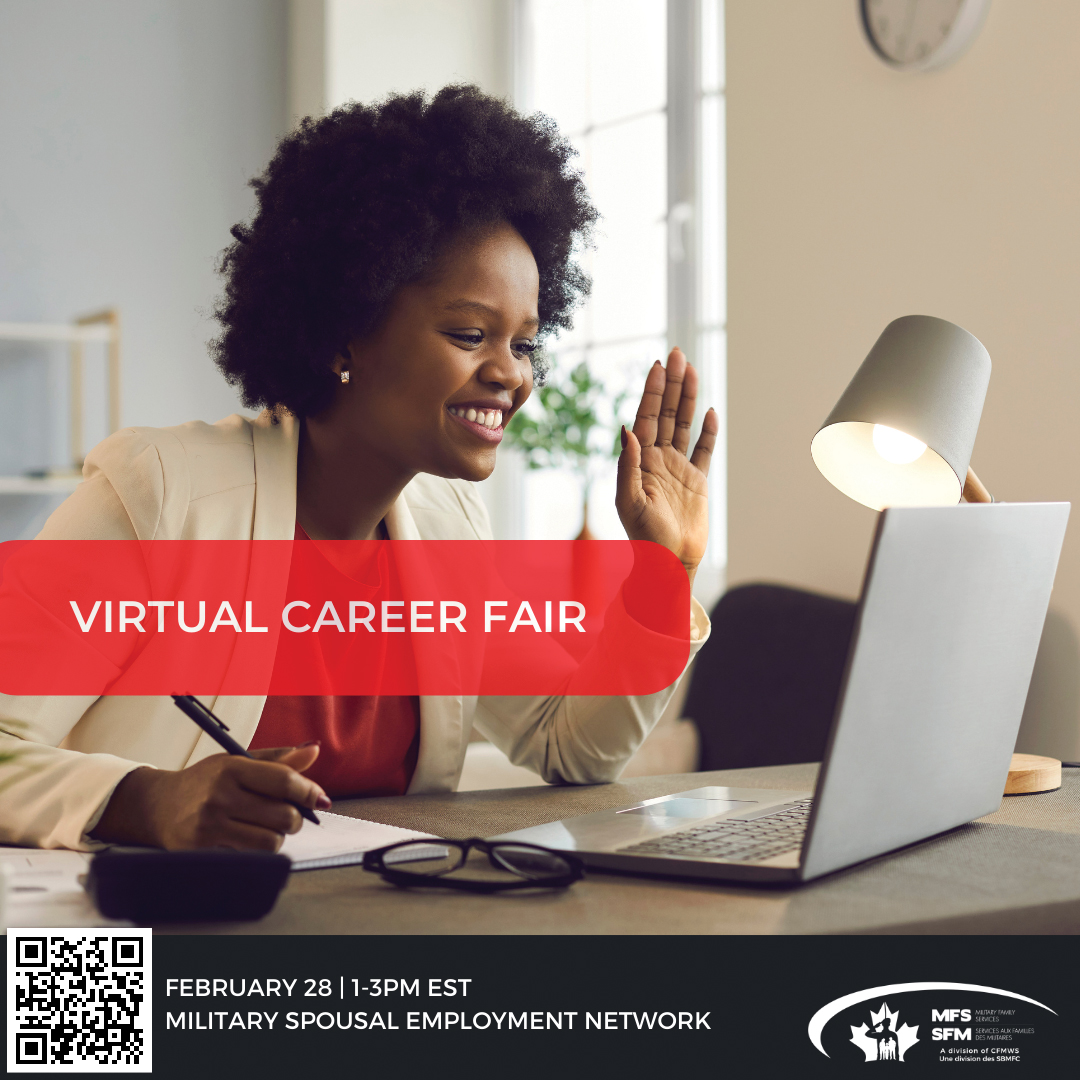 CFMWS — Military Family Services is hosting a virtual career fair for military and veteran spouses and partners on Feb. 28 from 1-3 p.m. EST. The event will occur on the Military Spousal Employment Network (MSEN).
"Given the current labour market, this is an ideal time for military spouses and partners to go after that dream job", said Augustina Charles from the Military Family Services Employment Team. "As equal opportunity employers, our network partners are looking to connect military spouses and partners with opportunities – and not just in their communities, but with remote work options as well."
The Network hosts a permanent job bank with more than 190 positions in B.C. that Network recruiters are looking to fill. This is in addition to new opportunities added to the Network daily.
Recruiters will be looking to fill many jobs in military communities across the country along with work-from-home opportunities. These national employers have agreed to offer military spouses equal and fair access to employment opportunities within their organizations.
While the virtual career fair will have 13 employers participating, the Network is also pleased to announce three new employers recently joining the Military Spousal Employment Network. These new employers will bring additional diversity to the types of jobs available on the Network:
NTT, a business, technology and learning development is looking to fill customer service roles in Ont., N.S., N.B., Que., and Alta.
VON is a healthcare firm looking to fill administration, client service and fundraising positions in Ont and N.S.
CATSA, a security agency, seeks to fill communications, HR, finance, legal, procurement, security, project development and IT positions in Ont., Alta., Man., Que., and N.S. Both NTT and CATSA have remote work opportunities.
Growing steadily, the Military Spousal Employment Network has had more than 5,800 users since it launched in 2018. The Network is a self-directed online resource with access to job postings, resources, and career development training and events such as virtual and in-person networking and career fairs.
Recruiters include:
Altis Recruitment;
Bayshore Medical;
Bell Canada;
BMO – Bank of Montreal;
Calian Group;
Canadian Forces Morale and Welfare Services;
Canadian Air Transport Security Authority (CATSA);
Commissionaires Canada;
GardaWorld;
National Defence;
NTT;
Language Research Development Group; and
Strongest Families Institute.
Military spouses/partners can register for the Military Spousal Employment Network at msen.vfairs.com and the virtual career fairs at surveymonkey.ca/r/R5V9GFL
Filed Under: Top Stories
Comments (0)