By Lookout on Aug 09, 2020 with Comments 0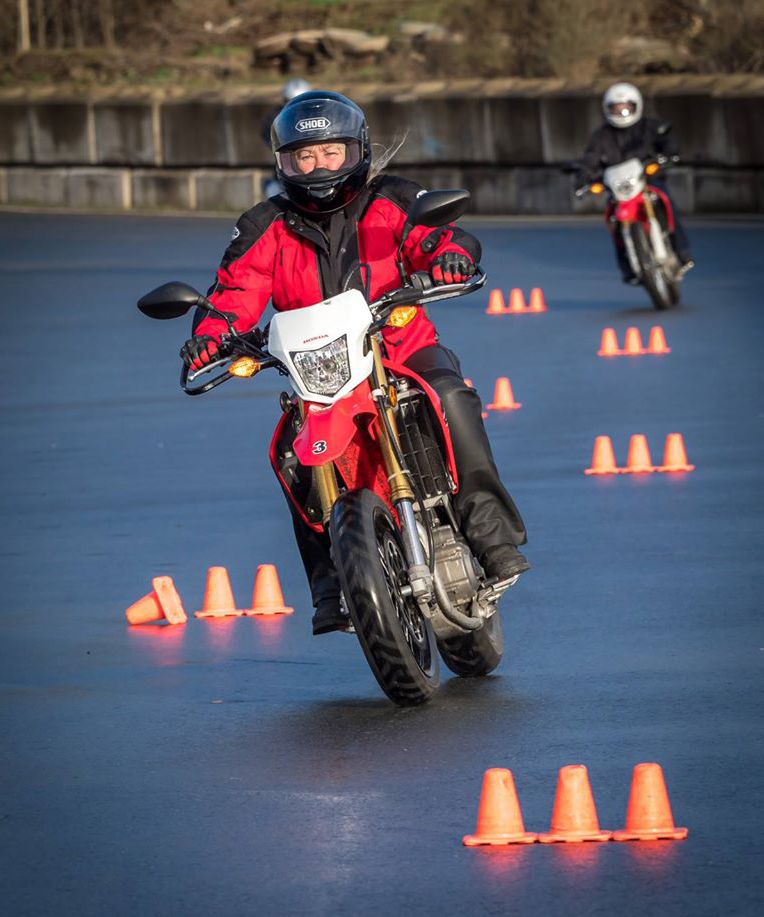 Peter Mallett, Staff Writer ~
A former motorcycle cop is encouraging aspiring motorcyclists from the base to get the skills they need before embarking on their journey down the highway.
Bill Laughlin has been an instructor with the Vancouver Island Safety Council (VISC) since his retirement from the Victoria Police Department in 2003, concluding 27 years of service as a police sergeant.
"I have always been a motorcyclist and have been riding since I was 16, so when I was asked by a friend if I would be interested in teaching I knew I would really enjoy it," says Laughlin.
Each year, he and approximately 20 other ICBC-licensed instructors teach over 400 students how to be safer motorcyclists. Their efforts are focused solely on rider training and education.
"All of our instructors have a passion for motorcycling. We are teaching because we want people to learn, be safe, but also have fun."
Shortly after joining VISC, Laughlin became its executive director. Today the 66 year old spends most of his days working as an administrator with the end goal to equip novice riders with the necessary skills and knowledge to operate a motorcycle safely. 
VISC offers weekday classes at its Western Speedway training centre in Langford; on the weekend training moves to the grounds of Interurban's Camosun College.
Students train on one of VISC's 11 well-maintained training bikes, and later in their instruction, 16 street-ready motorcycles as they move towards certification.  Helmets are also provided, but other gear such as proper protective clothing is not.
Laughlin says VISC has trained several members of Victoria's military community in past years and is convinced many of them buy into the philosophy of doing things right, getting the proper training, and learning the fundamentals before taking on any potentially dangerous activity.
You need to get your skills right before the fun part of riding a motorcycle can begin, says Laughlin. "Having fun while on a motorcycle is all about learning how to drive safely and not put yourself in dangerous positions. If you are professionally trained you will have the knowledge and confidence to truly get the most out of riding a motorcycle."
Their courses are not just for beginners. There are many people who have drifted away from motorcycling over the years but suddenly decide they want two-wheeled transit back in their lives.
"It's simply not a case of the old cliché: it's just like riding a bike," says Laughlin. "Over time the skills of people who haven't been riding begin to deteriorate, so we highly recommend refresher courses for those looking to get back into riding a motorcycle."
VISC is a non-profit organization that began its motorcycle training program in 1971. It then saw official sanctioning from the Canada Safety Council in 1974. Today, its novice level training program exceeds Insurance Corporation of British Columbia training course minimums, with its traffic course the most thorough and lengthy of all riding schools in B.C., says Laughlin.
Following a six-week shutdown due to COVID-19 social distancing measures, the VISC motorcycle training program resumed operations on June 1. Due to a backlog of students waiting for instruction during the shutdown, available spaces for August training sessions are almost completely full and its September dates are filling up fast.
Laughlin says VISC is always looking to recruit new instructors, and currently have a recruitment drive underway for paid positions and would greatly value the input of experienced motorcyclists from CFB Esquimalt to assist.
For more information about the VISC, visit their website: http://visafetycouncil.com
––––
Filed Under: Top Stories
Comments (0)