By Lookout on May 25, 2015 with Comments 0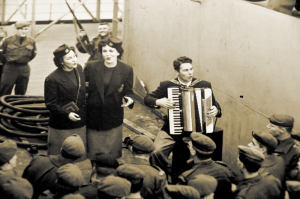 On a hot summer afternoon in 1947, 27-year-old Verna Mary Smith, a Victoria entertainer, performed a hand balancing and acrobatics show on the grass in James Bay's MacDonald Park.
A few days later, a photograph of Smith's show in the local newspaper caught the eye of Gerry Gosley.
He was amazed at the balancing act Smith accomplished in the photo as she lifted her entire body off of the ground and contorted it in the air, supported by a single hand.
Gosley, who was interested in performing himself, couldn't resist approaching Smith and propose the two pair up and start a show to tour around Victoria.
Smith, an adventurous and vivacious young woman, agreed immediately with one condition – that she direct and choreograph the show and train accompanying performers.
With an agreement in place, the two started "The Smile Show."
"Our first show as a group in Victoria was at the Britannia Legion," recalls Smith, 95, and the last surviving member of the original group.
"Gerry and I went out and got some posters, and we used water and flour to paste them up on all the telephone poles, and we filled the Legion that night. We had a heck of a good show, and we got a heck of a good write up done in the local paper."
Their performance was based off English comedy and variety shows, and featured different acts of singing, dancing, and acrobatics accompanied by band-style music.
Victoria is Smith's home-town, and she first learned to sing as a girl at St. Anne's Academy.
"I did my first show when I was three-and-a-half-years-old. It was on account of my mother's influence – she started teaching me songs early on, and she loved the English comedy shows."
As she grew up, and her musicality became more pronounced, she trained with a German opera singer.
On her own, she taught herself acrobatics.
As an adult she entertained in bars and clubs with her first husband, travelling all over the Island, and eventually out to Vancouver and the U.S.
In a Portland, Oregon theatre she even met and performed with Sammy Davis Junior.
"Sammy was very clever, you know, and could play any instrument. He was brought up in the wings of the stages."
When she met Gosley and established The Smile Show, her days and night were consumed with entertaining.
The show expanded to local hospitals and bars, and every legion in the city.
By 1950, the show's increasing popularity collided with the beginning of the Korean War.
"I was 32 at the time when I first started hearing about it, and still living in Victoria. I remember noticing how many of the men were starting to sign up. Everyone's first thought was 'where's Korea?' We'd never heard anything about it."
Gosley, who had contacts in the military, received a call requesting the group entertain American troops in Fort Louis, Washington.
"The troops loved us," says Smith. "After, as we walked along the tarmac up to our plane, I turned to Gerry and I said: 'We're going to Korea.'
Being that he had been in the Air Force and all, I told him that he would need to get in touch with someone to propose the idea to, and he did."
Gosley was able to reach a high ranking contact in the military, Major General George Perks, who supported their idea.
After trimming the troupe to four to reduce travel and accommodation costs, The Smile Show was approved to entertain troops in Japan and Korea.
Smith would sing, Gosley would act and perform comedy, a young woman by the name of Irene Henderson would sing and act, and Al Denoi, an accordion player, would carry out the role of the pianist during musical numbers, "as a piano was too large and heavy to ship around," says Smith.
In preparation to be flown out, the government insured each performer's life for $5,000 in the event they would not return.
The Royal Canadian Legion outfitted the group with full uniforms, and the Canadian military bestowed officer status upon each performer to help guarantee their safety.
As an added precaution, a Welfare Officer was hired to accompany the performers along every step of their journey.
The group was billeted at bases and hospitals where Canadian soldiers were stationed, and played dozens of shows for allied troops in the area.
Smith says it was at that point on the trip they began to adjust to the different culture, leaving their shoes outside of the sliding shoji doors at night to be polished, and exchanging their American dollars for pocketfuls of yen.
Two weeks later, they flew to war-torn Seoul, and were billeted at a Canadian hospital.
For three weeks the group packed into army jeeps and was driven from station to station in the red Korean dust, arriving at mess halls and clubs filled with cheering troops.
"We did get very worn out," says Smith.
"We performed mostly on sawdust floors in the tents, and it was hard work. When we finished a show, we were driven to another, and then another. The boys always wanted us to come, and they always wanted us to dance with them after."
Their largest show was performed at the American Base at Kimpo Airfield, where hundreds of Canadian, Australian, and American soldiers gathered to watch the group.
Smith says she experienced the most intense culture shock in Seoul, walking past broken down buildings and through garbage-filled slums – the result of two separate sieges on the city during the war.
"There were children that would follow us down the street begging. They had no shoes, hardly any clothes, and it was very cold. One day, Irene and I passed out chocolate bars to them, and they were so polite. They didn't grab or push at each other, they just took them."
On their off days, Smith and Henderson visited injured soldiers recovering in the hospital, signing casts and trying to cheer up the wounded.
"Many of the boys were severely wounded, and that was sad to see. We lost over 600 in the end, I think," says Smith.
"And we saw the boys coming back from the front lines, rifles on their backs. I remember seeing some of them crying."
When they finished their tour and returned to Victoria, Smith left The Smile Show shortly after, but continued singing at legions and clubs on her own.
She hosted programs at all the legions in Victoria, and continued to perform and sing professionally until the early 1980s.
"I really did miss it when the whole experience was over," she says.
"It was a real come down, you know. We'd had so much attention paid to us."
The Smile Show travelled 12,000 miles in total, performing 90 shows to an estimated 50,000 British Commonwealth and Canadian troops.
Rachel Lallouz
Staff Writer
Filed Under: Top Stories
Comments (0)