By Lookout on Nov 21, 2017 with Comments 0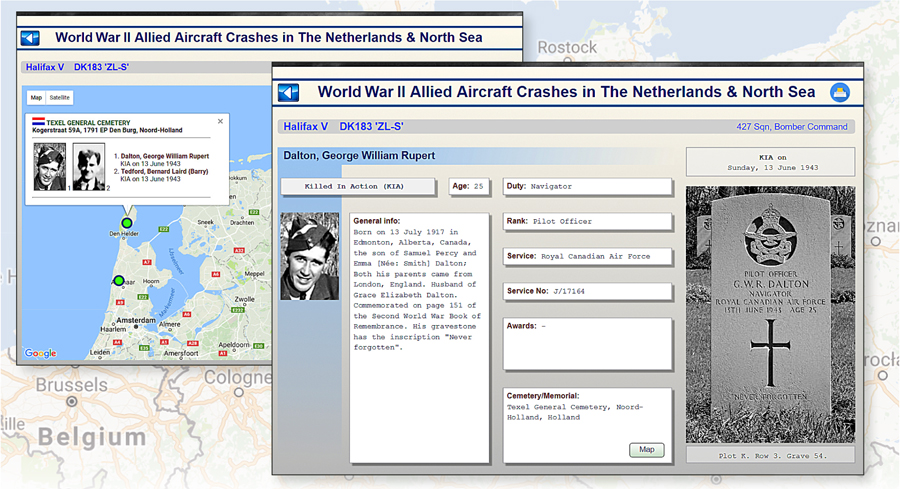 Peter Mallett, Staff Writer ~
A military historian from Holland has launched an interactive website that provides visitors with instant information on Second World War Allied aircraft crashes.
Jan Nieuwenhuis, 59, is an experienced stats and data man by trade who describes his devotion and love for aviation history as his hobby. Since 2006, he applied his intricate knowledge of databases and years of experience as a Data Manager for the Royal Netherlands Institute for Sea Research to launch the project.
The website incorporates data from the Aeronautical and War Museum on Texel Island, located in the Province of North Holland, where Nieuwenhuis has volunteered his time since 2004, along with information collected from other museums and historical accounts. His database contains detailed information about fallen airmen who died in the Netherlands and the entire North Sea in the war.
During the fierce air war that raged between the Allies and Germany, Texel Island became a death trap for Allied planes and their crews who fell from the sky after being shot down by enemy anti-aircraft weaponry and warplanes. A cemetery on the island houses the graves of 167 Allied airmen who died there, including members from Canadian squadrons who were brought together as 6 Group within Britain's Bomber Command.
Users can employ a number of search criteria options on the site including aircraft make, bases, and crash-­specific details to extract information from the database. Nieuwenhaus says the quick access to information will be of great value to people doing aviation and military history research, and also for others who have more personal connections to the war.
"The family members of these lost airmen also benefit because they can now find out information about their relatives and other facts that perhaps they never knew before," says Nieuwenhaus. "I think that my site is somewhat unique as it holds a lot of detailed information which is connected together."
The website links the online resources to Google Maps, which allows visitors to pinpoint where the crash occurred and where the airmen are buried. The data collected by Nieuwenhaus also includes photos of some airmen wherever possible. He notes the database is far from complete and is a living archive that will continue to expand as more information is uncovered.
Much of the data comes from the tireless efforts of retired fisherman and Texel resident Bram van Dijk, who, for the past 32 years, has spent much of his time cataloguing information on the crashes, while also tracking down and informing family members of the lost airmen, scattered across the globe, that their loved ones are buried on the island.
van Dijk has dedicated his retirement to research because of his personal connection to the war. As a child he witnessed the charred and battered wreckage of a crashed Halifax bomber while riding on the back of his mother's bicycle on one of the island's beaches.
"When I close my eyes I can still see the remains of the aircraft," he says.
Nieuwenhaus says he has been encouraged with initial feedback of the site, noting he has heard positive responses from several Canadians, including family members of deceased airmen.
He warns the website uses HTML5 web standard so it does not work properly on tablets or phones. He also warns against using Internet Explorer or Edge web browsers for the same reasons and advises that applications such Chrome or Firefox work better.
For more information and to view the website visit: https://www.airwar4045.nl
Filed Under: Top Stories
Comments (0)