By Lookout on May 27, 2017 with Comments 0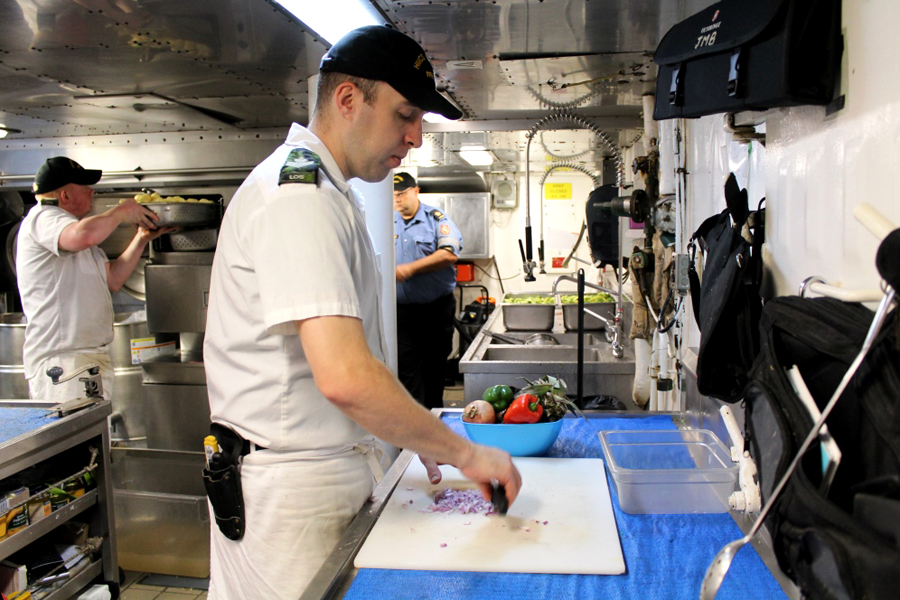 Every day the men and women onboard HMCS Ottawa are served delicious and nutritious meals. The logistical preparation that is involved in feeding over 200 people per day, every day, is staggering.
Each day a new menu is prepared that takes into consideration different dietary needs, the operational tempo for the day, and the ingredients the ship was able to procure at its last port of call.
The menu includes breakfast, dinner, supper, and of course soup!
Despite the difficulty of the task, everyday cooks, with the support of stewards, supply technicians and logistical officers, manage to provide the sailors onboard Ottawa with the next best thing to a home cooked meal—a meal shared with shipmates. 
The following recipe is an example of one such meal—a delicious Chilled Asian Shrimp Salad courtesy of the Petty Officer First Class John Cross, Chief Cook HMCS Ottawa.
Poseidon Cutlass 17 Recipe
Chilled Asian Shrimp Salad
Ingredients
20 each     Medium Shrimp – Peeled, Deveined & Cooked
5 cups       Mixed Greens
Marinade for Shrimp
2 each      Fresh Mango – Small Diced
½ each     Red Onion – Small Diced
½ each     Green Pepper – Small Diced
1 cup       Fresh Cilantro
1 tbsp      Chili Flakes
To Taste   Salt & Pepper
Dressing
1 each    Pineapple – Pureed
1 can      Mandarin Oranges – Pureed
1 ½  cups  Peanut Oil (May use salad oil if nut allergy)
1 cup   Shrimp Marinade             
Directions
Combine marinade ingredients in a medium size bowl. Add cooked shrimp, cover and let sit in refrigerator overnight.
Next day, remove shrimp and set aside. Strain marinade through a colander, separating the liquid and salsa mixture for later use.
Make dressing by emulsifying dressing ingredients in a food processor.
To serve the salad, place a generous amount of mixed greens in the center of the plate. Place several shrimp on top of the greens. Sprinkle the salsa mix liberally over the shrimp and drizzle with the dressing.
Filed Under: Top Stories
Comments (0)