By Lookout on Aug 06, 2013 with Comments 0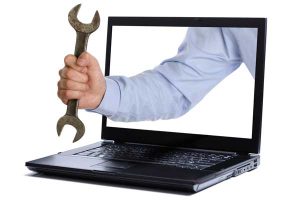 A digital facelift is on the way for Department of National Defence (DND) computers across Canada.
Starting in September, Base Information Services (BIS) will begin to implement the Windows 7 operating system on all DND workstations in the Formation.
The upgrade comes as part of a nation-wide mandate from Treasury Board of Canada, which states all government-owned workstations must be upgraded to Windows 7, Internet Explorer 9 and Office 2010 by March 31, 2014.
"This isn't just a CFB Esquimalt specific initiative," says Rocky Passarell, Windows 7 Project Manager for Maritime Forces Pacific (MARPAC). "This will be happening to every single government-owned computer across the country."
The mandate comes as a reaction to Microsoft's withdrawal of support for the Windows XP operation system, which the majority of government workstations run on, including DND.
"They won't be creating anymore patches or tweaking Windows XP to work with more current machines," says Passarell. "As we move forward with modernizing the hardware we work with, we have to make sure we can run the best software we have available to us."
The rollout itself will be simple. Personnel won't be required to undergo long hours of finicky technical upgrades. It will be uploaded to the Formation's 5,000 workstations via BIS networks, one department at a time.
"The upgrades will automatically install themselves when each division gets it," says Passarell. "It will be as simple as coming to work the next day and turning on your computer."
In preparation for the change, DND personnel will have to ensure they've recovered and backed up all user files located on their C: drives, as the drives will be wiped. Personal Q: drives, however, will remain untouched.
"The files on the C: of all workstations will be cleared. When it's cleared none of it will be recoverable," says Passarell. "It's vital that all personnel back up the files they want to keep."
While the changes to everyday work will be many, they will also be easy to understand. Passarell says the main changes come in the software we interact with every day.
"Using the newer versions of Microsoft Office or Outlook will take some getting used to, but besides that everything should be easier," says Passarell. "Information on the changes will be available to personnel if they need it, but it shouldn't take too long to get comfortable."
The changes will come slowly to the Formation, with all workstations being upgraded by February 2014.
While this may seem like a wait, Passarell says it's never too early to ask questions. For more information on the upgrade and how it will affect you go to the Defence Learning Network website.
-Shawn O'Hara, Staff Writer
Filed Under: Top Stories
Comments (0)