By Lookout on Aug 12, 2021 with Comments 0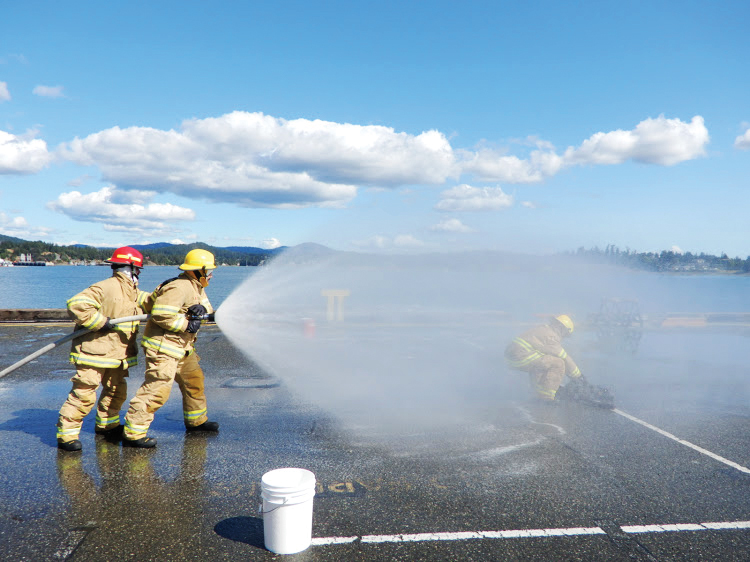 Peter Mallett
Staff Writer
––
A team of Maritime Technicians – dubbed Y Jetty – are champions of this year's Damage Control Olympics.
The competition was held July 22 at A Jetty in Dockyard as a fun way to build Maritime Technician (MARTECH) hand skills while fostering morale and camaraderie for those who work in the trade.
Approximately 80 participants from HMCS Regina, HMCS Vancouver, HMCS Ottawa, and team Y Jetty, who work in Maritime Coastal Defence Vessels, took on the challenge, being mindful of COVID-19 health and safety protocols.
"The event was intended to build skills but also to get people out of the workplace and start conversations and friendships between members of the trade, and I think it worked well," said CPO2 Lee Bickerstaffe, event organizer and Fleet Chief Engineer Marine Systems. "Those who competed seemed to be having fun and we are already looking at restaging this event next year with more teams and participants."
This year's competition involved simulated emergency scenarios such as a simulated firefight and setting up an attack hose in a Kingston coil, flood response involving the repair of a burst pipe using band-it clamps, rescuing a casualty, performing a shoring by cutting in five specific areas of a pipe, filling a bucket with a firehouse until a piece of wood floats to the top, the knocking down of five targets with a fire hose, and the securing of bunker gear and a re-flake hose.
CPO2 Bickerstaffe says COVID-19 safety protocols were followed throughout the event. Penalties were assessed to teams for any members not following protocol or wearing proper Personal Protective Equipment between events or maintaining  proper physical distancing.
No awards or trophies were handed out during the competition; however, all participants were treated to a post-event, celebratory luncheon of hot dogs and hamburgers held at the Chief and Petty Officers' Mess.
––––
Filed Under: Top Stories
Comments (0)