By Lookout on Nov 16, 2016 with Comments 0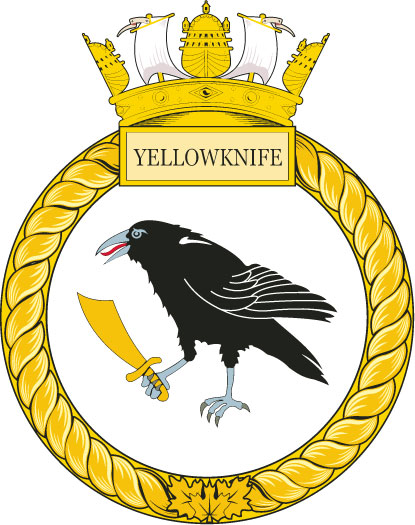 Peter Mallett, Staff Writer ~
The crew of HMCS Yellowknife will be heading to B.C.'s north coast later this month to investigate reports of submerged Cold-War era ordnance.
The ordnance is believed to be part of a B4 weapon jettisoned by a U.S. B-36 aircraft that crashed in the vicinity of Prince Rupert on Feb. 13, 1950.  The object was recently discovered by a diver who had been searching for sea cucumbers off the shores of Pitt Island, located approximately 80 kilometres south of Prince Rupert. The diver reported the details of his find to the RCMP and the Canadian Armed Forces.
"Discussions with our NORTHCOM Liaison Officer have provided us with information on the disposition of the weapon at the time of the jettison and crash, including verifying that there was no radioactive material in the weapon during the failed test flight in February 1950," said Commander Michele Tessier, Commander Coastal Forces, who indicated the object's core likely contained lead.
According to accounts by author Dirk Septer in his book Lost Nuke: The Last Flight of Bomber 075, five crew members were killed in the crash of the B-36 and 12 were rescued after an engine fire, believed to be caused by ice buildup on the wings, erupted on the plane. The crew dumped the ordnance in the ocean and then the pilot set the plane on auto pilot targeting it to crash into a remote area near Mount Kologe before he and the crew bailed out of the plane. The decision by the pilot to drop the ordnance in the ocean was made because the crew were uncertain of their proximity to populated areas and how far the plane could travel being weighted down.
During their upcoming sailing program, Yellowknife will embark the civilian diver who made the find and proceed to the area where he found it. The crew will employ their remote operated vehicle to the ocean's floor in an effort to gather information and capture imagery of the ordnance.
A team from Maritime Operations Group Four and the Fleet Diving Unit Pacific will operate the vehicle and provide oversight in determining what the object actually is and if it is the test weapon from the B-36 in question. Finding the precise location of the object itself may pose a challenge, said Cdr Tessier.
"We expect to capture imagery over the course of a couple of days on site, but this is dependent on how quickly the actual location of the object can be established," she said.  "The diver did not have a GPS with him when he found it and we will be going with his visual I.D. of the location."
Filed Under: Top Stories
Comments (0)