By Lookout Production on Sep 22, 2023 with Comments 0
Peter Mallett
Staff Writer
T'Sou-ke Nation's 30-foot canoe, the Elder Spirit, was hand-carved by the late Master Carver Fred Peter several years ago. Weathered and cracked, it dutifully carried a team of 18 paddlers to their final destination during this year's Tribal Journey.
With each stroke of their paddles, the team of First Nations canoeists inched closer to their goal of reconnecting with their communities, culture and history.
"Tribal Journey is one of the most important events we can engage in to ensure our connections to our relatives stay strong and our cultural knowledge passes to the next generations," said Aviator (Avr) Yvonne St. Pierre of CFB Esquimalt's Base Orderly Room.
Avr St. Pierre was part of a team of paddlers from the T'Sou-ke Nation. She was delighted to learn her Tribal Journey time away could count as Community Leave time. She has participated in multiple Tribal Journeys since 2007. This year, she paddled aboard Elder Spirit for one of the days but mostly worked as a support team member.
Earlier this summer, Avr St. Pierre and her team completed the approximately 300km journey, guiding their hand-carved cedar canoe across the Strait of Juan De Fuca and south through the Puget Sound to Muckleshoot, Wash.
"Tribal Journey is an essential yearly event that promotes our connection to our culture, reinvigorates our hearts and minds to keep our culture and histories in the forefront of our lives," Avr St. Pierre said.
Tribal Journey began in 1989 and has a different destination and host community each year. This year's Canoe Journey 2023: Paddle to Muckleshoot event spanned 18 days from July 21 to Aug. 7. It involved approximately 10,000 paddlers along with hundreds of canoes and support staff from 65 First Nations Communities across B.C. and Washington. Indigenous paddling teams from as far as Hawaii and New Zealand also travelled to the Pacific Northwest to participate.
Avr St. Pierre says paddling in a canoe all day is a grueling exercise requiring great energy and determination.
"Our paddlers are exhausted at the end of the day," she said. "The duration of their time in the water can vary from four to eight hours depending on tides and currents and distance to the next host village."
Avr St. Pierre drove the team's camping gear and supplies. At the same time, the paddlers stopped at a different First Nation community each late afternoon after receiving permission to come ashore from the local Tribal Elder. The host nation would often provide dinner, a place to camp for the night and a hot breakfast before their departure the next day.
"There is a drumming and singing session each night where the different communities exchange songs and stories," Avr St. Pierre said. "Each day the group of canoes gets bigger as host villages join the journey."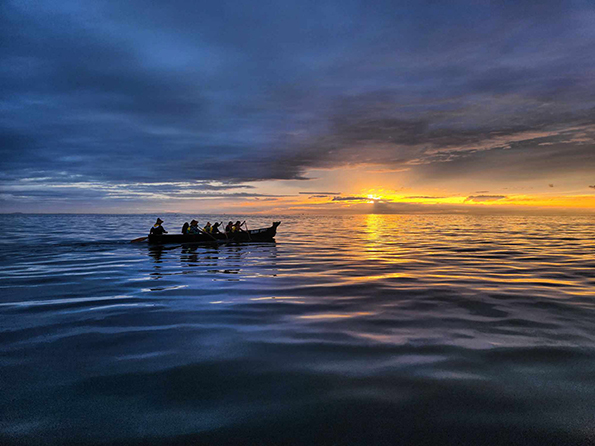 Each nation begins its canoe journey in its territory and makes its rest stops at different First Nations communities along the route. Part of the journey includes paddlers getting into a circle each morning before they set out on the water, thanking The Creator and asking for protection for the voyage ahead.
"We cannot go out onto the water if there is anything heavy or negative on your mind," said Avr St. Pierre. "If you have anything weighing on you, you must tell the circle and the group will determine the best option."
Final Destination
The canoeists arrived in Muckleshoot on July 30 after a nine-day journey from T'Sou-ke. Then commenced a seven-day gathering and cultural festival called a Protocol. The canoe families take turns sharing songs, dances and stories. There are vendors selling artwork, textiles and food.
Sometimes, sharing songs and stories is quite significant, notes Avr St. Pierre.
Five years ago, during one Protocol at the Quinalt Nation in Washington, Avr. St. Pierre and members of the T'Sou-ke Nation reconnected to a song that originated from the T'Sou-ke Nation and had been lost by time. Jack Planes, Her Great Uncle and T'Sou-ke Nation Elder, had remembered the song from when he was very young.
"Since we are known as The Salmon People, the song spoke of the salmon and was performed in our own SENĆOŦEN language," said Avr St. Pierre. "He was so excited and giddy when he realized he could hear the name T'Sou-ke Nation in the words."
St. Pierre said hearing these songs and discovering lost oral histories is one of the most exciting aspects of Tribal Journey, and it also improves understanding of who the T'Sou-ke people are.
"If we hadn't been in the longhouse that night watching their presentation, we may never have heard our song again," she said.
St. Pierre said this year's Protocol event and The Tribal Journey also allowed her to do something new: Promote the Canadian Armed Forces and the benefits of being a member. She spoke to some of the paddlers she met about the new Naval Experience Program (NEP). It offers university and high school graduates looking for a gap year to try a career in the Royal Canadian Navy.
"People seemed very interested to also learn that the military allows its members to take community leave and be involved in events such as this," she said. "I am just so pumped and excited to spread the word about the CAF to other paddlers and hope I can make the Tribal Journey again next year."
Filed Under: Top Stories
Comments (0)