By Lookout on May 04, 2015 with Comments 2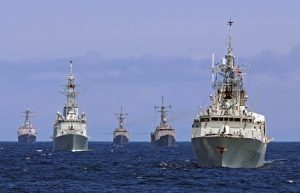 Seven Canadian and American naval vessels sailed from Canadian Forces Base Esquimalt today to participate in Exercise Trident Fury, a biennial multinational exercise taking place off the coast of Vancouver Island from May 4-15.  
Trident Fury is a naval exercise organized by Maritime Forces Pacific.
The exercise tests air and surface joint operations including maritime surveillance, live air and surface weapons firing, and anti-submarine warfare training.
Participants come from the Royal Canadian Navy (RCN), the Royal Canadian Air Force (RCAF), the United States Navy (USN), and the United States Coast Guard (USCG).
More than 1,200 military personnel will participate in this exercise, which enhances the RCN's ability to operate in a task group environment with our allies.
"Exercise Trident Fury is critical in making sure that Pacific Fleet ships are ready to deploy with our allies on a wide range of operations.  Interoperability is critical to working in a maritime environment," said Commodore Bob Auchterlonie, Commander Canadian Fleet Pacific.
Naval vessels participating this year include Her Majesty's Canadian (HMC) Ships Calgary, Saskatoon, Winnipeg, and Yellowknife, United States Ship Cape St. George, United States Coast Guard Cutter Active, and RCN Orca-class vessel Wolf.
Military aircraft participation include RCAF CP-140 Aurora Long Range Patrol Aircraft and CH-124 Sea King ship-based helicopters.
American aircraft participating in the exercise include USN P-3 Orion Maritime Patrol aircraft, SH-60 Seahawk helicopters and EA-18 Growler electronic warfare jets.
Filed Under: Top Stories
Comments (2)