By Lookout on Sep 28, 2015 with Comments 0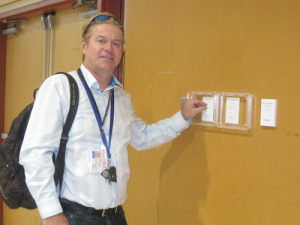 Environmentally friendly updates to the lighting at the Colwood Pacific Activity Centre (CPAC) will save the facility nearly 30,000 kilowatt hours and thousands of dollars per year – enough to power three average B.C. homes.
LED lights as well as and motion and daylight sensors were installed after Technical Specialist Derek Knudsen made recommendations to upgrade energy wasting aspects of the 16 year old building.
Knudsen, who works for CFB Esquimalt Real Property Operations under a contract with Defence Construction Canada, assesses Department of National Defence buildings to find energy wasters and recommends ways to make them more efficient.
He started the CPAC project just over three months ago and has since changed more than 50 per cent of the lighting at the centre.
"Apart from saving energy for the building, the project will save the Department of National Defence in costs too. With the renovations, the centre will be able to save $4,300 a year," says Knudsen.
During a six-week construction period, a two person crew replaced the building's metal halide gymnasium lights with energy-efficient LED lighting.
Metal halide presents a safety risk due to its low light levels, and frequent burn-outs, Knudsen explains.
"The new LED lights will provide users with better lighting colour and are hooked up to sensors to automatically turn off after detecting zero movement for 20 to 30 minutes," says Knudsen.
Exit signs in the gymnasium were also upgraded to LED lighting.
In the hallways throughout the building, daylight sensors have been programmed to supplement the natural light with LED lighting.
The sensor will scale light up and down to supply fill lighting automatically.
Outdoors, the old metal halide and low pressure sodium lighting was creating personal security issues.
Employees or guests of the centre were at risk while waiting for a pick-up in dark lighting conditions if one or more lights burned out.
Similar to the gymnasium, the glass bulbs lighting the outdoor pick-up areas, bike stalls and side doors have been replaced with LED lighting that should burn for up to 15 years before needing replacement.
Apart from lasting longer, the new lights won't give off the yellow hue typical of older lighting technology.
Sensors hooked up to the bike stalls will provide cyclists with reliable, bright lighting when needed.
"These changes allow us to save over one-third of a tonne of greenhouse gases per year," says Knudsen.
"We also get to solve safety issues and produce maintenance savings. Apart from that, employees and guests are happier with the aesthetics of the new lighting."
With BC Hydro's PowerSmart Express Program, which provides rebates for making energy-saving building improvements, CFB Esquimalt, Real Property Operations, who pays for utilities for the Centre, received a rebate cheque for over $8,000.
"This project will serve as an excellent model for future Department of National Defence projects," says Knudsen.
Rachel Lallouz
Staff Writer
Filed Under: Top Stories
Comments (0)