By Lookout Production on Sep 19, 2023 with Comments 0
Kateryna Bandura
Lookout Editor
—
If she had to summarize this year's Formation Fun Day in one word, organizer Christine Farrington says it would be 'appreciation'.
"This event is to show our military and DND community how much they are appreciated for their service and sacrifice as well as welcome newly posted members and their families to the base for a day of fun," Farrington says.
Formation Fun Day, an annual event at CFB Esquimalt for over a decade, brought the base community together again on Sept. 9.
This year's event was filled with interactive displays by base clubs, including the Model Railway Club and the Base Automotive Club, and other Base entities including SISIP, and CANEX. Many activities for all ages included a face painting station, a balloon twister, an obstacle and slide inflatables, Stormtroopers, battle archery, Euro bungee, a climbing wall, a swing ride, Laser tag, a train ride, Rigid Hull Inflatable Boat rides, games including Giant Jenga, golf, bowling, a large checker game and the Esquimalt Military Family Resource Centre's (EMFRC) by-donation BBQ.
Jackie Carle, EMFRC's Executive Director, says the EMFRC was pleased to be part of Formation Fun Day.
"Our team provided welcome packages to families new to the area, we connected with families impacted by deployments, and we loved providing a BBQ lunch for attendees," Carle said. "It was a great day, and we appreciated the opportunity to interact with families and enjoy the sunshine."
Overall, Farrington said this year's event was a success.
We would like to acknowledge and thank the following Base unitS for their support for Formation Fun Day:
RP Ops
BLOG
POESBE
MPs
NPTG
HMCS Regina
HMCS Winnipeg
Parking Control
Thank you to our sponsors for the event: Seaspan, Babcock BMO, and EMFRC. See you next year!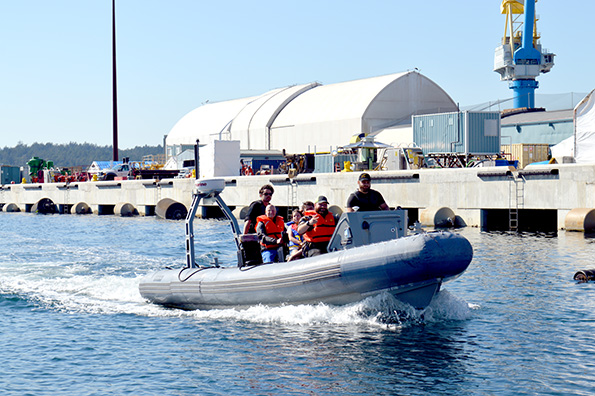 Filed Under: Top Stories
Comments (0)