By Lookout Production on Nov 03, 2023 with Comments 0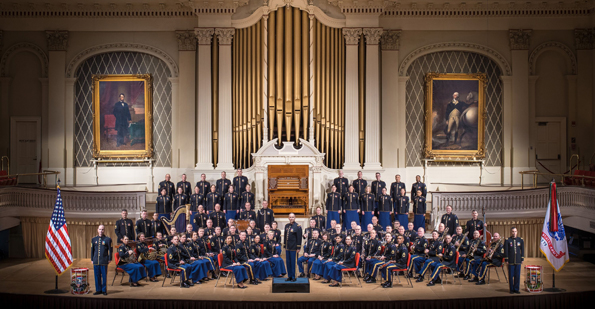 Peter Mallett
Staff Writer
—
Members of the Naden Band prepare to embark on a new collaboration and a series of upcoming concerts with the prestigious U.S. Army Field Band.
Founded in 1940, The Naden Band of the Royal Canadian Navy is comprised of 35 professional full-time musicians. Their role within the RCN is to support Naval Operations, ceremonial events and public outreach initiatives.
The collaboration with the U.S. Army Field Band grew from a request of a former band member, says Naden Band member Petty Officer Second Class (PO2) Rebecca Hissen.
According to PO2 Hissen, former Band member Captain (Capt) Marie-Perle Broadley, Commanding Officer / Director of Music of the Band of the Royal 22nd Regiment, conducted the U.S. Army Field Band at the Midwest Band and Orchestra Clinic in Chicago in 2022. When the U.S. Army Field Band announced their west coast tour earlier this year, she put Lieutenant (Navy) (Lt(N)) Benjamin Van Slyke, Commanding Officer of the Naden Band, in touch with them, and the collaboration grew to fruition.
Lt(N) Van Slyke says he and band members are very much looking forward to the series of concerts.
"This is very exciting from a military music perspective because we look up to these folks," said Lt(N) Van Slyke, who plays trumpet and is the band's conductor. "They play presidential inaugurations and big sporting events and are thought of in the United States along the same lines of a major symphonic orchestra."
Founded in 1946 and based in Washington, D.C., The U.S. Army Field Band is the premier touring musical representative of the United States Army. Its Concert Band and Soldiers Chorus recently began a 16-city tour of the West Coast of North America as part of its Fall National Outreach Tour. Their tour involves a trio of performances entitled their Friends and Allies Concerts with the Naden Band of Maritime Forces Pacific (MARPAC). The U.S. Army Field Band will be bringing along 55 musicians and a 22-person chorus who make up their concert band. To haul their gear and band members from the D.C. area, they will require four buses and two 18-wheeler trucks.
Lt(N) Van Slyke will split conducting duties for the concerts with Colonel Jim R. Keene, the U.S. Army Field Band's Commanding Officer. The two bands will have a day-long rehearsal in Seattle before their first concert.
"Our musicians are familiar with all the songs and at rehearsal they will need to know which song the conductors will want," said Lt(N) Van Slyke. "The musicians in both bands are of such great caliber that it will just happen on stage."
The concerts will feature familiar military songs and marches such as the RCN's Official March Heart of Oak, the Canadian Army's March Great Little Army, Henry Fillmore's Rolling Thunder March and the national anthems of both nations. Other selections will include composer John Williams and his theme from Star Wars and Harry's Wonderful World. Then, instead of finishing their concert with the field band's rendition of Stars and Stripes Forever, the bands will belt out their rendition of the original theme song for Hockey Night In Canada: The Hockey Theme by Dolores Coleman.
The series of concerts is a golden opportunity for outreach with a unique demographic, says Lt(N) Van Slyke.
"This unique collaboration provides a fantastic opportunity for our musicians to showcase themselves to the students and faculty at Canadian universities," he said. "This will give students and staff a greater understanding of what we do in the Canadian Armed Forces and wide array of career opportunities available."
The Naden Band has collaborated with other military bands in past years, before the COVID-19 pandemic. This includes an annual cross-border concert with military bands from the state of Washington for the past three decades.
Filed Under: News Release • Top Stories
Comments (0)