By Lookout Production on Oct 28, 2023 with Comments 0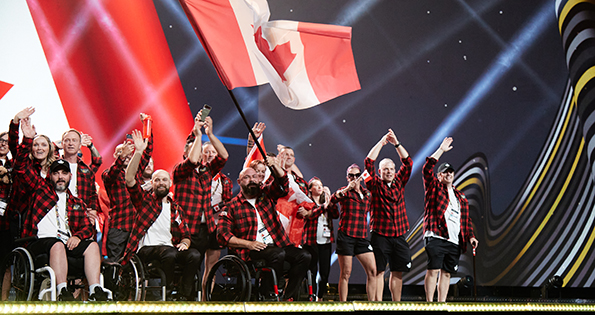 Peter Mallett
Staff Writer
—
Two members of Team Canada praise the powerful mental health benefits of the 2023 Invictus Games in Germany.
Team Canada's 31-person contingent included 12 Canadian Armed Forces (CAF) members and 19 veterans who have each acquired physical or mental health injuries while serving Canada.
Locally, Major (ret'd) Nick Holyome of Comox and Lieutenant-Commander (LCdr) Tracey Barlow, former CFB Esquimalt logistician now posted to Ottawa, were part of the team that competed Sept. 9-16 in Dusseldorf. Both are diagnosed and in recovery from Post-Traumatic Stress Disorder (PTSD) and other mental health injuries.
"My participation in the Invictus Games was a life-changing experience," said LCdr Barlow. "From the moment I attended the first Team Canada training camp, I was accepted for who I really am and not judged because of my injuries."
Her teammate was equally impressed by the healing power of Invictus. 
"It was an epic experience considering how much hard work, preparation and sacrifice I had put into being there," said Holyome. "I had a lump in my throat for both the opening and closing ceremonies and hearing 23,000 people chant 'CA-NA-DA' was truly amazing."
The fifth edition of the Invictus Games brought together approximately 500 competitors from 21 nations, competing in 10 adaptive sports. Canada's Invictus team is funded by Soldier On, a program of the Canadian Armed Forces which contributes to the recovery of ill and injured CAF members and veterans by providing opportunities and resources through sport, recreational, and creative activities.
Four tours of Afghanistan
Holyome's Invictus experience brought the four-year journey of waiting to represent Canada to an end.
"There were certainly some periods when I thought I might never compete and complete my journey," he said. "I am so happy with my progress and preparation."
He was first named to Team Canada's roster in 2019, planning to compete at the 2020 Games in The Hague. Not only were they postponed until 2021 due to COVID-19 concerns, but Holyome contracted COVID-19 hours after the 2021 Opening Ceremonies, spending the second half of his trip quarantined in a hotel room.
Holyome, 49, was an Intelligence Officer and a Naval Warfare Officer that served 24 years in the Navy, Army, Special Operations and Air Force. He completed four tours of Afghanistan and was diagnosed with PTSD, anxiety and depression in 2015. At the 2023 Games, he competed in wheelchair rugby, indoor rowing and cycling.
Although he didn't win any gold medals, Holyome said he was happy with his performances at the Games and says the experience has boosted his confidence level.
"There were so many 'gold medal moments', but the highlight for me was just competing in the cycling races," he said. "The athletes I was up against were so strong and fast, I just put my head down and pedaled as hard as I could."
He wants to continue cycling and is planning a multi-day excursion to the United States next year. He has also arranged a few speaking engagements in the Comox Valley to discuss the importance of sport and injury recovery.
Overcoming sexual trauma
LCdr Barlow is a survivor of Military Sexual Trauma (MST). She competed for Canada in wheelchair rugby, archery and indoor rowing. The 49-year-old Naval Logistics Officer is posted to Ottawa's Transition Unit and has served 30 years in the CAF.
She previously worked in Esquimalt as a member of the Comptroller staff until January 2021 before being posted to RCN Comptroller staff in Ottawa. In addition to managing naval finances for the Base, she was posted to HMCS Vancouver and the  Canadian Submarine Force as Command Logistics Officer for all submarines on both coasts.
A former high school musician who completed in rugby and Karate, LCdr Barlow says getting the chance to train and compete at Invictus and meeting other MST survivors has been a gamechanger in her life. She describes walking out for the opening and closing ceremonies under the banner of the maple leaf as both a proud and 'surreal experience' with most athletes having tears in their eyes.
During the competition, she earned a bronze medal in archery and achieved a personal best in both the endurance and sprint rowing events. She also assisted on some of Canada's scoring plays in wheelchair rugby as Canada earned its first-ever rugby victory at the Games. The overall focus at the Games is camaraderie and recovery, said LCdr Barlow, adding that most participants are on the same page regarding recovering from mental and physical injuries.
She heard about the healing power of the Invictus Games during her own recovery through a friend and coworker who had previously participated in the Games.
The payoff has been greater than expected – the games are helping her look forward to a brighter future.
Prince Harry
Canada's hotel in Dusseldorf, Germany, housed athletes from nine nations.
One unforgettable experience Holyome and other athletes will remember for years was meeting Prince Harry.
The Duke of Sussex helped launch the Invictus Games in 2014 and remains an unwavering supporter and spokesperson for its objectives. At this year's closing ceremony in Dusseldorf, the Prince gave an impassioned speech paying tribute to MCpl James Gendron, a member of Team Canada and a devoted bagpiper who works for the Canadian Forces Transition Centre in Kingston, Ont.
MCpl Gendron played his bagpipes at no fewer than 63 repatriation ceremonies for deceased Canadian soldiers as their caskets were unloaded from a Hercules aircraft. Until playing them at the Games, he said he doubted if he could ever play them again.
"What had once haunted him, dare I say it, may now be what helps heal him," said Prince Harry. "Thank you, James, for your service, for your courage and sharing your gift."
Holyome says he briefly encountered the Duke of Sussex and told him how much he appreciates his efforts to celebrate injured military veterans on the world stage.
"He is truly genuine in his support for the Invictus Games Foundation and really wants to see ill and injured veterans thrive after their military service," concluded Holyome.
Invictus 2025 to include winter sports
The handoff for the 2025 Invictus Games Vancouver Whistler is now complete.
During the closing ceremony of last month's 2023 Invictus Games in Dusseldorf, Germany, organizers presented the flag of the Invictus Games Foundation to members of the organizing committee for the 2025 Invictus Games.
The moment marked the beginning of Canada's journey to host its second Invictus Games, the first-ever hybrid competition in Games' history. The 2025 Games will feature winter sports along with its more traditional sports.
Nordic skiing, skeleton, and wheelchair curling will be added to the list of adaptive sports at the 2025 edition of the Games. The other sports competitions will be indoor rowing, sitting volleyball, swimming, wheelchair basketball and wheelchair rugby.
The Government of Canada – through Veterans Affairs Canada – committed $15 million in funding to support the Invictus Games Vancouver Whistler 2025 and an additional $ 1 million to support the Soldier On program to train and equip Team Canada.
"The Invictus Games is an outstanding opportunity to recognize resilience, dedication and athletic excellence," said Bill Blair, Canada's Minister of Defence. "I look forward to welcoming hundreds of competitors to our country, but in particular, I look forward to cheering on Team Canada."
Filed Under: Top Stories
Comments (0)