By Lookout Production on Sep 21, 2023 with Comments 0
Peter Mallett
Staff Writer
—
Two Afghanistan War veterans say jumping from an airplane at heights of 3,500 feet and higher is the perfect medicine for overcoming service-related injuries.
Master Warrant Officer (MWO) (ret'd) Dave Pickett and Sergeant (Sgt) (ret'd) Ken Dechant of Base Logistics in Colwood are repeat customers of a veteran-run, team-building parachute camp in Campbell River called Operation Pegasus Jump.
"There is nothing like the natural high of jumping out of airplane and Operation Pegasus Jump is truly wonderful," says Pickett. "It's a powerful bonding experience to be with others who have served and to do something challenging and somewhat terrifying and I fully believe it can help others in their recoveries."
Operation Pegasus Jump is organized by MWO (retired) Tim Turner, Sgt (retired) Gavan Jones and Tamara Szewczyk, who also run the Operation Pegasus Foundation. The Operation takes place at the Campbell River Skydive Centre, owned by Sgt (ret'd) Rob MacNeill, a former Canadian Airborne Regiment member, and MWO (ret'd) Bob Verret, a retired Search and Rescue Technician. MacNeill and Verret also live with service-related injuries.
Pickett, 56, served in the Royal Canadian Army from 1986 to 2013 and completed tours of Afghanistan, Rwanda and Bosnia. Today, he continues his military service as a reservist and Regional Liaison Officer with Joint Task Force Pacific (JTFP).
Dechant, 58, served 23 years as a Radio Operator in the Army and deployed to Afghanistan. The veterans say the experience has built confidence and self-esteem and helped them recover from their service injuries. They now want other veterans and first responders to experience Operation Pegasus Jump's therapeutic value first-hand.
The duo participated in their first Operation Pegasus Jump in July 2022. Equipped with parachutes, helmets, and skydiving equipment under the close guidance of a team of experienced volunteers, both let go of their fears again this July and made multiple jumps over Vancouver Island from a Cessna 182 jump plane.
"I experienced so many emotions including excitement, anticipation, anxiety and, yes, I was also terrified but the quality of training the instructors deliver and the encouragement of other jumpers on the team give you the confidence to do this," says Dechant.
He said it's comforting for many participants that the First Jump Course mimics military instruction in how the information is delivered and its tone.
"The instructional courses quickly become a bonding exercise and make you feel like you are in the Army again," said Dechant. "It takes less than a day of instructions for the barriers to come down and you start making friends and having fun just like in the old days."
After completing a First Jump Course, which offers four to five hours of instruction, participants make their first jump in groups of 10 from 3,500 feet. They can then continue to make jumps or a tandem skydive from 10,000 feet while attached to an experienced instructor. There is a welcome barbeque before the camp begins, and Operation Pegasus Jump makes other activities, such as golf and helicopter tours, available to all participants. Participants can join a series of four-day parachute and activity camps in July. Operation Pegasus Jump's First Jump Course costs $314, and each additional jump costs $125.
New Recruits Welcome
Operation Pegasus Jump began in 2022 as a charitable initiative intended as a therapeutic team-building exercise for people who have Post-Traumatic Stress Disorder (PTSD) and other occupational mental illnesses, says MacNeill.
"This is first and foremost a team-building exercise and all about taking service members and first responders out of their comfort zones and presenting them with a challenge," said MacNeill.
The business partners hatched their idea for Operation Pegasus Jump a few years ago with Turner, a former Canadian Army Airbourne Regiment member and now one of Operation Pegasus Jump's instructors. He served on deployments to Sierra Leonne, Croatia, and Cyprus. Turner served with Pickett in Afghanistan and was later diagnosed with service-related injuries, including PTSD.
Turner is also a firm believer in the objectives of Operation Pegasus Jump and its power to heal.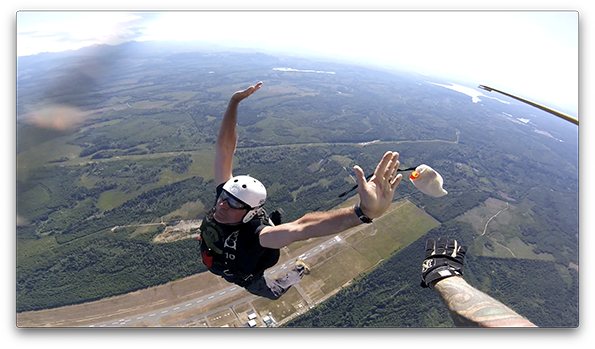 "We have definitely changed some lives for the better," says Turner. "The act of getting together with a group of former military members creates a positive energy that makes them feel like they are back in the military."
Pickett and Dechant say they hope people reading their story consider the course an option for themselves or their friends and loved ones.
"I truly believe this is a terrific program for members overcoming injuries and want to get this out to the community and let other people know," said Pickett.
For more information and how to register, visit campbellriverskydive.ca/events/operation-pegasus-jump.
Filed Under: Top Stories
Comments (0)