By Lookout Production on Nov 08, 2023 with Comments 0
Peter Mallett
Staff Writer
—
A Grade 8 student at Spencer Middle School says CFB Esquimalt's new public outreach program helped her discover new career options.
Seeing the cooks of Base Foods aboard HMCS Regina was the highlight of the day for Savanah Conway on Oct. 20.
"I thought this would be a fun job," she said. "Being on this big ship and cooking for people seems like so much fun and I never realized this could be a career possibility until today," she said.
Conway was one of 42 students selected for the day-long Sailor for a Day program, directed under Maritime Forces Pacific (MARPAC). The visit showcases trades and career opportunities in the Royal Canadian Navy (RCN) while giving students related hands-on experiences.
Lieutenant-Commander (LCdr) Anne Gardam, Commanding Officer of Naval Reserve Unit HMCS Malahat, says discovering new options is precisely what the program is for.
"This initiative helps high school and middle school students understand what it is that we do," LCdr Gardam said. "I always talk about us having every job that exists in a small town. So, if you enjoy the culture and the way we do things, there is a job for every kind of person."
The students shared exciting moments throughout the visit.
Robbie Cleveland, a Grade 8 student at the Centre Mountain Lellum Middle School, says the tour of Esquimalt Harbour aboard a Rigid-Hulled Inflatable Boat (RHIB) was his favourite part.
"It was a really fun ride because, at some points, the boat was bouncing off the waves," Cleveland said. "I also enjoyed our visit to the diving unit and seeing the decompression chamber because I have seen this only on television before."
The students enjoyed a guided tour of HMCS Regina and learned about several trades and jobs on the warship. They also witnessed a demonstration of a minor boat attack, casualty clearing, firefighting demonstration, escape drills and knot-tying instruction.
Lieutenant (Navy) (Lt(N)) Harrison Irvine, Regina's Navigation Officer, said sailors on his team were excited to welcome the students into their ship.
"Our sailors were keen to show off their life at sea to the next generation of sailors," Lt(N) Irvine said. "Every single one of us had a first day in this ship too so we were happy to make their first time a positive experience."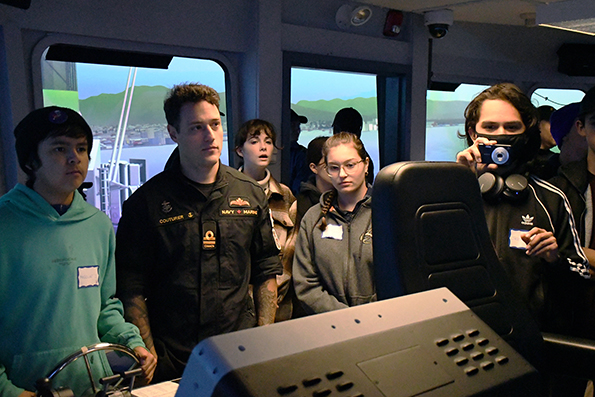 Activities included:
A visit to the Naval Personnel Training Group, where the students toured the bridge simulators and received an introduction to Naval Warfare Officer Training;
A visit

 

to the Damage Control Training Facility Galiano in Colwood, where they witnessed a demonstration of firefighting techniques with the facility's new Helo Trainer Sikorsky CH-148 Cyclone;
A tour of the Fleet Diving Unit (Pacific), including its Bomb Disposal Unit, static displays of diving equipment and the unit's decompression chamber;
Tours of HMC Submarine Corner Brook and Fleet Maintenance Facility (Cape Breton).
Filed Under: Top Stories
Comments (0)