By Lookout Production on Jan 30, 2023 with Comments 0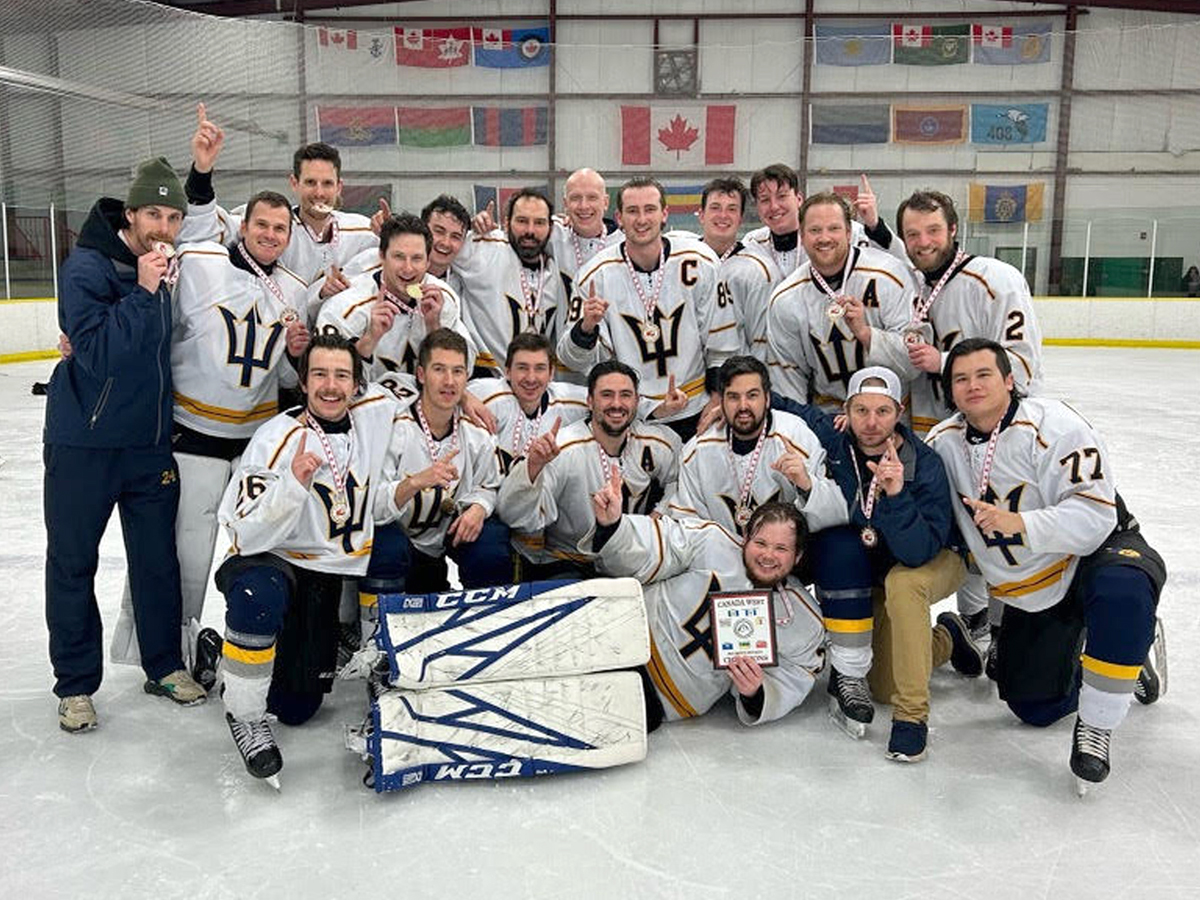 Peter Mallett, Staff Writer — Members of the Esquimalt Tritons broke into song moments after clinching a berth in next month's Men's Hockey National Championship tournament.
After accepting their winner's medals, the players retreated to their locker room belting out their best rendition of Juno Award winner Carly Rae Jepsen's hit song Call Me Maybe, said Petty Officer First Class (PO1) Curtis Gillies, Triton's Assistant Captain and Team Manager.
"The team was really excited to win and meet all our goals so overall there was a true sense of accomplishment," PO1 Gillies said. "The locker room was electric and we had an excellent championship sing-along to cap things off."
The Tritons overcame a slow start in the Canada West Regionals competition on Jan. 15-20 at CFB Edmonton. The blue and gold overcame two losses in the round-robin phase with the sweet reward of a thrilling 5-4 overtime victory over the host team on Jan. 20. A/SLt Darcy McHugh scored the winning goal. He converted his wrist shot from the left face-off circle midway through the first sudden-death overtime period to give Esquimalt the tournament title.
The Tritons also defeated CFB Winnipeg in their opening game before falling to Edmonton and Comox in the round-robin. They defeated Comox 8-3 in the tournament semi-final on Jan. 19.
Master Corporal (MCpl) Colin Maclean was voted Most Valuable Player of the Championship game for Esquimalt and A/SLt McHugh for the entire tournament. Other standouts for Esquimalt included Sub-Lieutenant (SLt) Seamus Maguire and Sailor First Class (S1) Derek Cheetham.
PO1 Gillies, who plays left wing for Esquimalt, said getting the most out of each player on their 20-person roster was crucial to the victory.
"The key to our success in this tournament was from our depth as we could play every member on every line and through every situation against all opponents," he said.
PO1 Gillies said the Tritons will need a much better early-tournament performance when going up against the cream-of-the-crop at the Canadian Armed Forces Hockey Nationals, running Feb. 26 to March 3 at CFB Wainwright. Due to unit postings and work commitments, the team may be without A/SLt McHugh, SLt Maguire and S1 Cheetham for the Nationals. Despite this, PO1 Gillies believes optimism abounds.
"In my 13 years of playing for the Tritons, this feels like the closest we will get to winning a national championship," he said. "The team could not be happier with our performance and its times like this that many members will cherish for their entire careers."
Filed Under: Top Stories
Comments (0)