By Lookout on Dec 14, 2015 with Comments 0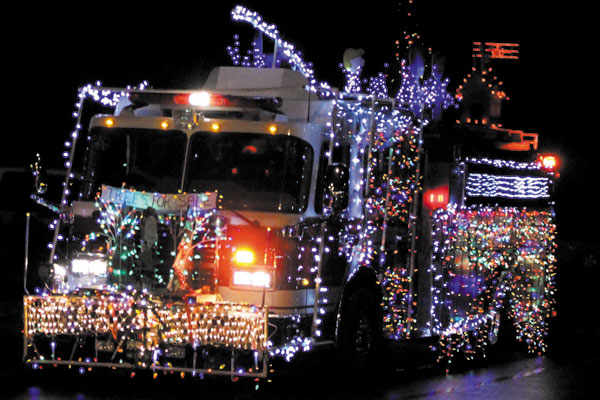 Peter Mallett, Staff Writer – Base firefighters continued the holiday legacy of a fallen comrade this year by entering Pumper No. 450 into this year's annual Esquimalt Celebration of Lights parade.
The backup pumper for CFB Esquimalt's Fire and Rescue Services was adorned with over 1,000 Christmas lights and took home top prize for Best Decorated Vehicle at the Dec. 6 holiday event hosted by the Township of Esquimalt.
"Winning the prize was very much a team effort," said fire department chief, Steve Mullen. "But the whole reason behind our involvement is to do something festive within the community. It makes the guys and girls in this unit feel good and they always make a big effort to do it up right."
A big part of the unit's past success was the enthusiastic involvement of veteran firefighter Dave Hill. Mullen says Hill took it upon himself to spearhead the annual tradition of lighting up the truck for the holidays throughout his 22 years at the station.
But on Nov. 19, 2011, 54-year-old Hill was diagnosed with terminal lung and esophageal cancer after a routine trip to the family doctor. His co-workers rallied around Hill and his family, raising enough money for them to visit Hawaii in January 2012. Hill died seven months later and was honoured at the 11th annual Canadian Fallen Firefighters Foundation Memorial in August 2014.
Mullen says Hill's legacy lives on each year when they flick the switch and the fire truck is set aglow.
"Decorating the fire truck was a labour of love for Dave, I know he'd be smiling if he found out we kept his winning tradition alive," said Mullen. "He was always at the epicentre of taking the bull by the horns and ensuring our truck would shine brightly. He would dress up as Santa Claus and buy candy to distribute to the children during the parade."
Mullen noted that Hill's understudy for many years – co-worker Bryce Patey – quickly assumed the lead role in decorating the truck, and did an "admirable job" again this year.
Hill's grown daughter Courtney was able to attend the event on his behalf.
"It was a personal touch to acknowledge the Hill family," Mullen said. "Getting her involved in this year's event was simply the right thing to do and I know she was touched by the gesture."
Despite blustery and wet weather conditions, a large crowd lined the parade route that ran along Esquimalt Road. The parade featured trucks and other large vehicles from various community organizations and businesses, all adorned with Christmas lights. Mullen said his unit did not participate in Esquimalt's Celebration of Lights last year, but have won the top prize at previous events on more than one occasion.
"I was so pleased to hear Esquimalt Mayor Barbara Desjardins announce our Fire Hall had won the award for the exceptional job they did decorating the truck," said Base Commander Capt(N) Steve Waddell. "Events such as these provide an excellent informal opportunity for us to meet with residents in the community we work in. Bravo Zulu not only to the Fire Hall for their win, but also to the Military Police team who decorated their RHIB, and members of the Formation who participated in the parade."
Pumper No. 450 also appeared in a similar event in Metchosin on Dec. 13. Mullen concluded his unit is already looking to keeping Hill's tradition "shining brightly" next holiday season.
Filed Under: Top Stories
Comments (0)