By Lookout Production on May 31, 2023 with Comments 0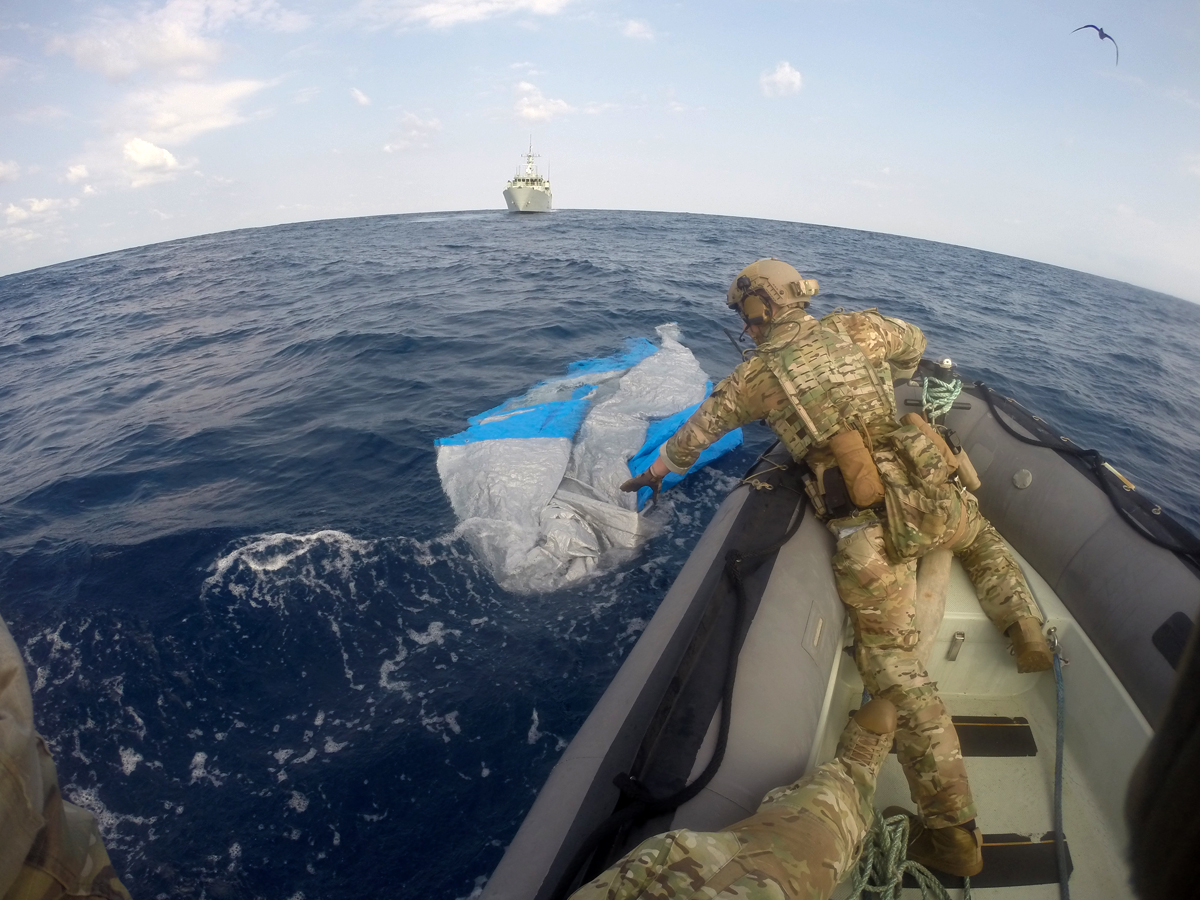 Capt Chelsea Dubeau, MARPAC PAO — It's April 8, early on a hot Saturday evening, as His Majesty's Canadian Ship (HMCS) Edmonton patrols the international waters south of the Mexican coast on Operation (Op) Caribbe, Canada's contribution to U.S.-led Enhanced Counternarcotics Operations.
But it's not just any Saturday. At home, families and friends enjoy the extra-long weekend in celebration of Easter, while on HMCS Edmonton, something significant is about to happen.
Not far away from the Kingston-class minesweeper's position of interception is a vessel, and it's moving fast.
Suspiciously fast.
"This vessel was going incredibly quickly," said Lieutenant-Commander (LCdr) Tyler Smith, Edmonton's Commanding Officer. "They had a lot of powerful engines on board, and they were maneuvering erratically, and dangerously."
The vessel was earlier detected by a P-3 Orion, a maritime patrol aircraft from U.S. Customs and Border Protection, which then alerted the Surface Action Group (SAG) under which HMCS Edmonton and its embarked U.S. Coast Guard Law Enforcement Detachment (LEDET) was operating. The SAG included two U.S. Coast Guard Cutters (USCGC) Active and Benjamin Bottoms, and an MH-65 Dolphin helicopter, embarked on USCGC Active.
When the vessel was first detected, it was moving much slower. All three ships in the SAG had taken different positions to approach from different angles, but the vessel was hundreds of nautical miles away from HMCS Edmonton, dead in the water.
"We were in waiting mode, waiting for more information from the aircraft and Joint Interagency Task Force (JIATF) South. So that part was a very slow burn," said LCdr Smith. "But at one point, it all changed, the relative velocity, the speed of the vessel."
Participating in a SAG isn't the norm for Canadian warships on Op Caribbe. However, when the chance to unite forces presented itself following participation in the North American Maritime Security Initiative (NAMSI), HMCS Edmonton and Cutters Active, and Benjamin Bottoms jumped at the opportunity. NAMSI is a multi-national effort between Canada, the United States and Mexico to strengthen their security relationship through training exercises, coordinated efforts and combined operations.
Sub-Lieutenant (SLt) Avery Stover is a bridge watchkeeper on board HMCS Edmonton. It's her first deployment, and she's the Officer of the Watch right as things unfold.
"I was thinking that [an interception] might not even happen on my watch," said SLt Stover. "The vessel was dead in the water, and it could take five or six hours to get to it. We were just making our way as fast as we could. But then things quickly changed when [the vessel] came up in speed to over 30 knots. Very quickly the intercept time dropped to an hour, an hour and a half."
With the vessel moving erratically and at high speed, several things happen at once: as Cutter Benjamin Bottoms approaches the vessel at its highest speed, Edmonton modifies its intercept course to create a barrier.
"The vessel actually got right past Benjamin Bottoms and ended up coming right into Edmonton's sector," said LCdr Smith. "We were cutting off the northern route for this suspect vessel while the helicopter from Cutter Active was approaching and compelling the vessel to stop."
As the SAG closes in, crewmembers of Edmonton watch as several bales of narcotics are jettisoned from the vessel during the pursuit.
In the wee hours of Easter Sunday, the vessel is stopped, and U.S. Coast Guard carries out law enforcement activities. Seven individuals are taken into custody. USCGC Benjamin Bottoms and HMCS Edmonton conduct a thorough search of the jettison field, and recover a large quantity of contraband. All told, the seized contraband, 755 kilograms of cocaine, has an estimated Canadian street value of $49.5 million. The vessel, now considered a hazard to navigation, is disposed of at sea.
"It turned into quite an exciting watch," said SLt Stover. "Definitely a lot of adrenaline."
"We trained very hard to prepare for this," said LCdr Smith. "These narcotics cause problems for us at home and for the security of our partners in Central America. Actively helping prevent the flow of these is a huge win, and the crew is very happy with what we've accomplished."
The Canadian Armed Forces (CAF) has conducted Op Caribbe since 2006 with successive deployments of Royal Canadian Navy ships and Royal Canadian Air Force aircraft. During those fifteen years, the CAF has contributed to the disruption or seizure of more than 112 tonnes of cocaine.
__________
The April 8 incident wouldn't be the first time HMCS Edmonton and USCGC Cutter Active have worked together. The two ships previously conducted integration training and force generation activities, including towing, formation steaming, and cross-deck evolutions (exchanging sailors).
"I don't think we would have had that opportunity to [participate in the Surface Action Group] if we hadn't written these previous cooperative engagements," said Lieutenant-Commander Tyler Smith. "We already had that relationship built and decided that we could increase our effectiveness by joining up for this last leg of our patrol."
Each ship and supporting aircraft involved bring unique capabilities to interdiction operations. Individually they are powerful deterrents. Together, they are formidable. Working as a SAG, the search area widens. The ability to detect, track, and disrupt vessels engaged in smuggling increases. And so does the likelihood of a successful interdiction.
Filed Under: Top Stories
Comments (0)