By Lookout Production on May 02, 2023 with Comments 0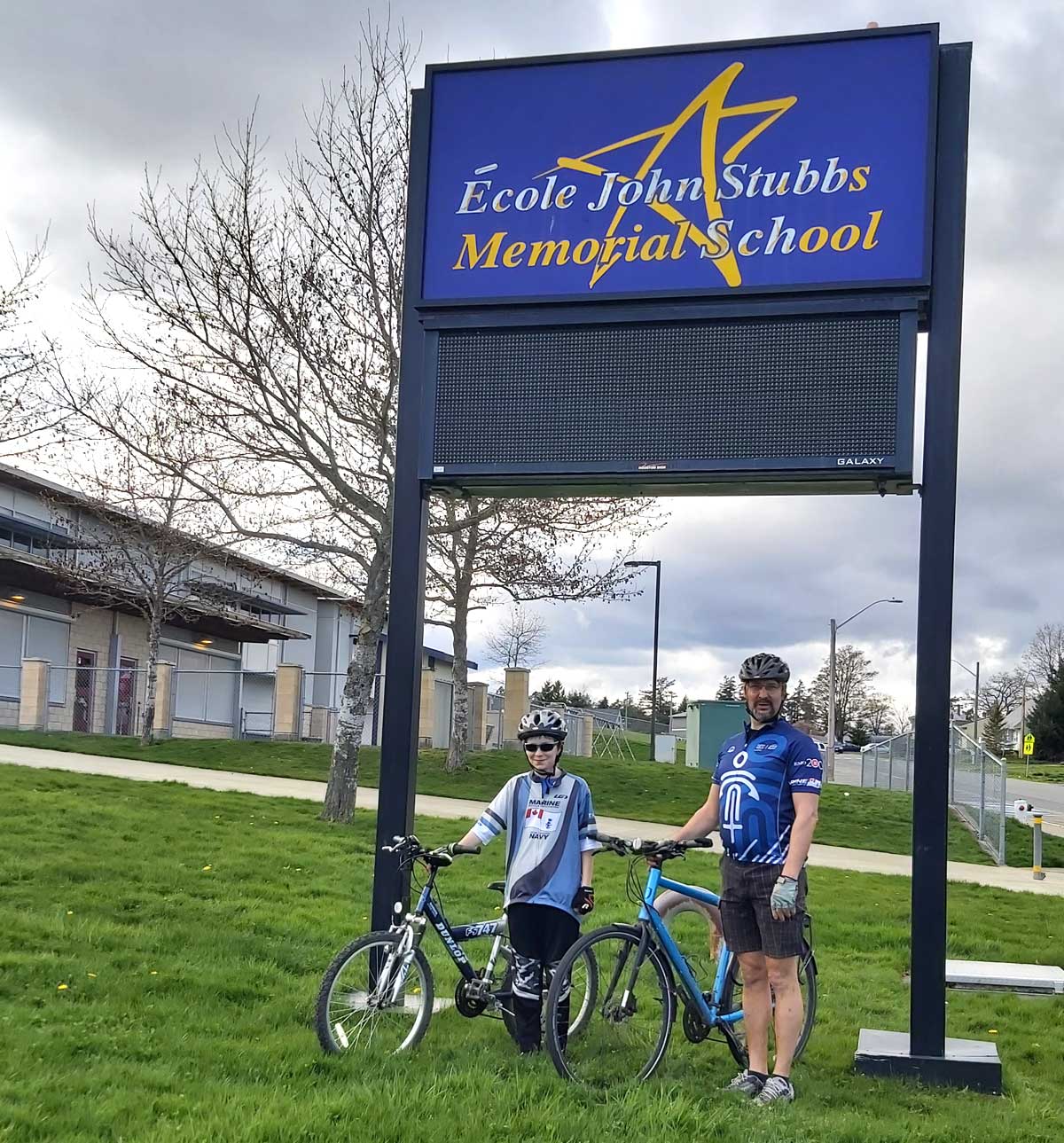 Peter Mallett, Staff Writer — Petty Officer First Class (PO1) Louis Beaudet, General Safety and Environmental Officer at Naval Personnel Training Group (NPTG), needs little convincing this year's Navy Bike Ride will be a success.
"The ride is always enjoyable and creates camaraderie among friends; it also allows to meet new people and make new friends," he said.
Founded in 2016, the Navy Bike Ride encourages the well-being and health of communities and families through non-competitive cycling tours. The event will make its in-person return this year replacing virtual events held for the past three years during COVID-19 restrictions. This year will also mark the first time the Navy Bike Ride will be held on the West Shore, with previous events held in Esquimalt and on the E&N Rail Trail. The non-competitive, family-themed event is open to all military and civilian cyclists.
PO1 Beaudet has been with the Canadian Armed Forces for 35 years and has participated in the Navy Bike Ride since 2017.
In October 2022, PO1 Beaudet joined Martime Forces Pacific's (MARPAC) Active Living Working Group and became engaged in promoting the benefits of fitness and the many programs available to military members and their families.
"I try my best to convince others from the Base to see the benefits of cycling and abandon their gas-guzzling vehicles and the stress of commuting in exchange for a bicycle," he said. "Riding my bicycle always brings me peace of mind so I'm really looking forward to sharing my love of cycling with other members of the Defence Team and the entire community at the Navy Bike Ride."
During the lockdown when the Navy Bike Ride went to a virtual format, PO1 Beaudet led all cyclists aboard HMCS Vancouver in a unit cycling challenge to see who could log the longest distance.
The 52-year-old, originally from Trois-Rivieres, Que., has been a recreational cyclist all of his life. When he moved to the West Coast in 1998, cycling became a larger part of his life. Due to the cost of driving and paying for gas and the physical and mental health benefits, PO1 Beaudet says he began cycling to and from work nearly 25 years ago. He hasn't looked back and has gradually become a cycling expert.
"All year around, rain or shine, you will see me on the bike trail," he said. "Cycling also helps me get my exercise in while commuting, helps me unwind after work and reduces the amount of time during the day that I spend sitting in a desk or behind the wheel of a car."
Matt Carlson, Projects Officer with the Base Public Affairs Office, says having this year's ride start and finish in Belmont Park, where hundreds of military families live, will boost future participation numbers.
"The community is getting excited because we will offer a ride designed especially for kids," said Carlson. "There aren't many non-competitive bike rides available to the general public in Victoria so we hope this will encourage more registration as families see it as a fun, engaging and affordable weekend event to participate in."
A children's bouncy castle will be set up at the start and finish line. The Esquimalt Military Family Resource Centre (MFRC) will welcome registered participants with a by-donation BBQ. Both Carlson and PO1 Beaudet emphasized the importance of this year's event as an outreach effort for the RCN and that the Navy Bike Ride is open to all members of the public.
"We invite everyone in the community and their family members to come out and learn what the RCN and its people are all about," said PO1 Beaudet.
The Navy Bike Ride commences, Sunday, June 3, 10:30 a.m. at École John Stubbs Memorial Elementary School, located Colwood's Belmont Park neighbourhood.
The event includes a 28km youth and Signature Ride through Belmont Park, Colwood and scenic Esquimalt Lagoon, and a shorter 4km ride for children.
The Ride is a national event in four cities across Canada: Halifax, Quebec City, Ottawa and Esquimalt.
It also has a virtual cycling component called the Admiral's Challenge and involves the completion of 100km of cycling in
one day.
The bike ride supports charitable organizations with close ties to the CAF and, since its inception, $47,600 has been raised for the Royal Canadian Navy Benevolent Fund, Support Our Troops and Soldier On. The title sponsor for this year's event is BMO.
Registration fees for the Signature Ride are $15 and $10 for cyclists 12-years-old and under.

 

Registration forms are available at bit.ly/esqnbrdvm
Filed Under: Top Stories
Comments (0)