By Lookout Production on May 16, 2023 with Comments 0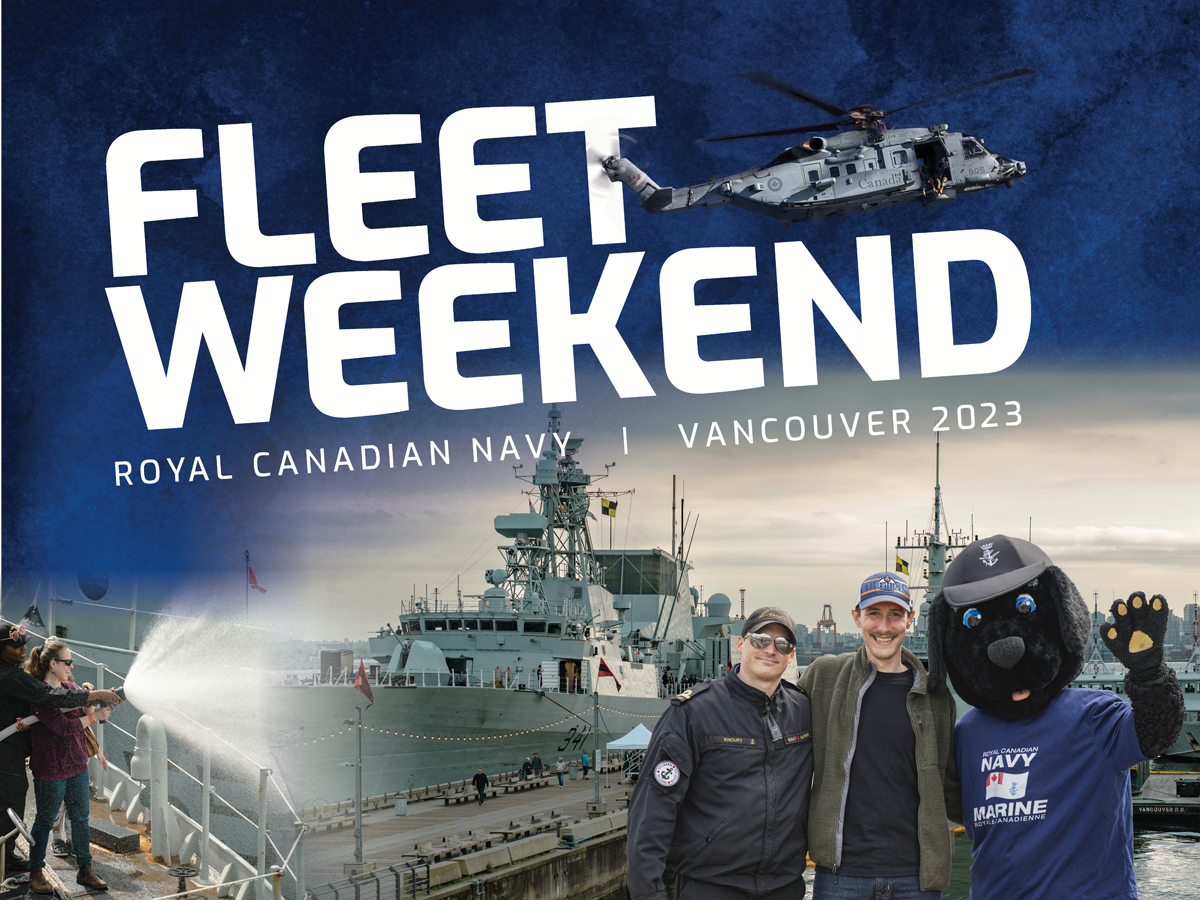 Lt(N) Pamela Hogan, MARPAC PAO — 'Victoria Traffic, Canadian Warship 341 estimating First Narrows one-three-zero-zero, over.' HMCS Ottawa entered Vancouver Harbour on May 4, followed by HMCS Nanaimo and Orca-class training vessels Raven 56, Orca 55, and Moose 62, for Canadian Fleet Pacific's (CANFLTPAC) second annual Fleet Weekend at the Burrard Drydock Pier in North Vancouver.
The Fleet Weekend spanned from May 5 to 8. It included displays from several Royal Canadian Navy (RCN) units, including the Naval Tactical Operations Group, Fleet Diving Unit (Pacific), Canadian Submarine Force, the Naden Band, Fleet Maintenance Facility Cape Breton, Naval Reserve recruiting, and the Naval Security Team (NST).
NST, along with the Patrol Craft Training Unit, provided free Rigid Hull Inflatable Boat (RHIB) rides to members of the public in Vancouver Harbour. Clive and Kathy Mark of West Vancouver said while they waited for their HMCS Ottawa tour to begin, 'two friendly Navy midshipmen' signed them up for a 'leisurely' tour of the inner harbour in an RHIB.
"An exhilarating tour of the inner harbour was more like the experience; we loved every one of the 15 or so minutes," the couple said. "Equally as impressive was the HMCS Ottawa tour – every sailor we met clearly explained the equipment and the purpose of each device."
CANFLTPAC ships provided free upper deck tours. By the end of the weekend, HMCS Ottawa was estimated to have hosted approximately 4,600 people; the Orca-class training vessels hosted about 1,430 people; and HMCS Nanaimo hosted about 2,400 people.
During the weekend, HMCS Nanaimo received a surprise visit from a 100-year-old Wren who enrolled in the Royal Navy as a mechanic in 1942.
Kathy Morrison encountered the ship's captain in the passageway leading up to the main flats.
"I asked, 'are you the Captain?', and when he confirmed, I said, 'well, now I don't know whether I should salute or curtsey,'" she said.
Lieutenant-Commander Mike Vanderveer, the ship's Commanding Officer (CO), had given her a CO's ballcap by the time she disembarked. Morrison returned to the pier the following day for a private tour of HMCS Ottawa given by Sub-Lieutenant (SLt) Deidre Van Herpt and SLt Spencer D'Amore. She also attended the Battle of the Atlantic commemorative ceremony held at Sailor's Point Waterfront Park by the Vancouver Naval Veterans Association on Sunday. The ceremony commemorated the 78th anniversary of the longest continuous battle of the Second World War.
Sailors also participated in outreach events, including HMCS Discovery's open house and job fair, handing out finisher medals at the BMO Vancouver Marathon, and presenting an RCN skateboard to CityFest's Youth Skateboard Competition. The RCN is estimated to have engaged with approximately 11,000 members of the public during the Fleet Weekend.
Filed Under: Top Stories
Comments (0)