By Lookout Production on Sep 22, 2023 with Comments 0
Peter Mallett
Rédacteur du Lookout
—
Le canoë de 30 pieds de la nation T'Sou-ke, le Elder Spirit, a été sculpté à la main par le regretté maître sculpteur Fred Peter il y a plusieurs années. Usé et fissuré, il a consciencieusement transporté une équipe de 18 pagayeurs jusqu'à leur destination finale lors de la Tribal Journey de cette année.
À chaque coup de pagaie, l'équipe de canoéistes des Premières nations s'est rapprochée de son objectif de renouer avec ses communautés, sa culture et son histoire.
"La Tournée des tribus est l'un des événements les plus importants auxquels nous pouvons participer pour nous assurer que nos liens avec nos parents demeurent solides et que nos connaissances culturelles sont transmises aux prochaines générations ", a déclaré l'aviatrice Yvonne St-Pierre, de la salle des rapports de la BFC Esquimalt.
L'aviatrice St-Pierre faisait partie d'une équipe de pagayeurs de la nation T'Sou-ke. Elle a été ravie d'apprendre que le temps qu'elle consacrait à la journée tribale pouvait être comptabilisé comme congé communautaire. Elle a participé à plusieurs voyages tribaux depuis 2007. Cette année, elle a pagayé à bord de Elder Spirit pendant une journée, mais a surtout travaillé en tant que membre de l'équipe de soutien.
Au début de l'été, Avr St. Pierre et son équipe ont achevé le voyage d'environ 300 km, guidant leur canoë en cèdre sculpté à la main à travers le détroit de Juan De Fuca et vers le sud à travers le Puget Sound jusqu'à Muckleshoot, dans l'État de Washington.
"La Tribal Journey est un événement annuel essentiel qui favorise notre lien avec notre culture, revigore nos cœurs et nos esprits pour que notre culture et notre histoire restent au premier plan de nos vies", a déclaré Avr St.
Le voyage tribal a commencé en 1989 et a une destination et une communauté d'accueil différentes chaque année. Cette année, le voyage en canoë 2023 : Paddle to Muckleshoot s'est déroulée sur 18 jours, du 21 juillet au 7 août. Environ 10 000 pagayeurs, des centaines de canoës et du personnel de soutien provenant de 65 communautés des Premières nations de la Colombie-Britannique et de l'État de Washington y ont participé. Des équipes de pagayeurs autochtones venant d'aussi loin que Hawaï et la Nouvelle-Zélande se sont également rendues dans le nord-ouest du Pacifique pour participer à l'événement.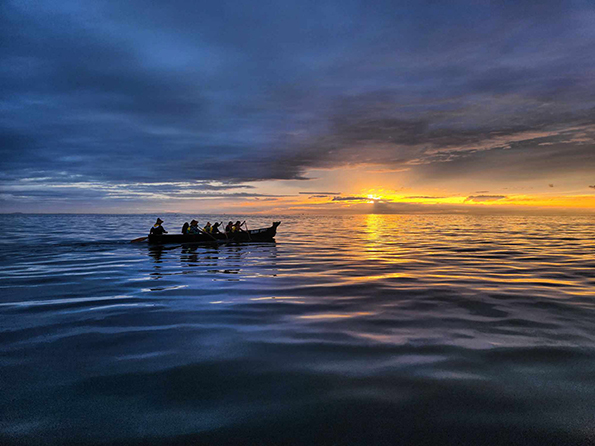 Selon Avr St. Pierre, pagayer dans un canoë toute la journée est un exercice épuisant qui demande beaucoup d'énergie et de détermination.
"Nos pagayeurs sont épuisés à la fin de la journée", dit-elle. "La durée de leur séjour dans l'eau peut varier de quatre à huit heures en fonction des marées, des courants et de la distance qui les sépare du prochain village d'accueil.
Avr St. Pierre a conduit le matériel de camping et les fournitures de l'équipe. Parallèlement, les pagayeurs s'arrêtaient chaque fin d'après-midi dans une communauté autochtone différente, après avoir reçu l'autorisation de débarquer de la part de l'aîné de la tribu locale. La nation hôte leur offrait souvent un dîner, un endroit où camper pour la nuit et un petit déjeuner chaud avant leur départ le lendemain.
"Chaque soir, il y a une séance de tambours et de chants au cours de laquelle les différentes communautés échangent des chansons et des histoires", explique Avr St. "Chaque jour, le groupe de canoës s'agrandit car des villages d'accueil se joignent au voyage.
Chaque nation commence son voyage en canoë sur son territoire et fait des haltes dans différentes communautés des Premières nations le long de l'itinéraire. Chaque matin, avant de partir sur l'eau, les pagayeurs se réunissent en cercle pour remercier le Créateur et demander sa protection pour le voyage à venir.
"Nous ne pouvons pas aller sur l'eau s'il y a quelque chose de lourd ou de négatif dans notre esprit", a déclaré Avr St. "Si quelque chose pèse sur vous, vous devez le dire au cercle et le groupe déterminera la meilleure option.."
Destination finale 
Les canoéistes sont arrivés à Muckleshoot le 30 juillet, après un voyage de neuf jours depuis T'Sou-ke. C'est alors qu'a commencé un rassemblement de sept jours et un festival culturel appelé Protocol. Les familles de canoës se relaient pour partager des chants, des danses et des histoires. Des vendeurs proposent des œuvres d'art, des textiles et de la nourriture.
Parfois, le partage des chansons et des histoires est très important, note Avr St.
Il y a cinq ans, lors d'un protocole à la nation Quinalt à Washington, Avr. St. Pierre et des membres de la nation T'Sou-ke ont renoué avec une chanson originaire de la nation T'Sou-ke et perdue au fil du temps. Jack Planes, son grand-oncle et ancien de la nation T'Sou-ke, s'était souvenu de cette chanson lorsqu'il était très jeune.
Comme nous sommes connus sous le nom de "peuple du saumon", la chanson parlait du saumon et était interprétée dans notre langue, le SENĆOŦEN", explique Avr St. "Il était tellement excité et étourdi lorsqu'il s'est rendu compte qu'il pouvait entendre le nom de la nation T'Sou-ke dans les paroles.
Selon M. St. Pierre, l'écoute de ces chansons et la découverte d'histoires orales perdues constituent l'un des aspects les plus passionnants de la Tribal Journey, et permettent également de mieux comprendre qui est le peuple T'Sou-ke.
"Si nous n'avions pas assisté à leur présentation dans la maison longue ce soir-là, nous n'aurions peut-être jamais réentendu notre chanson", a-t-elle déclaré.
Mme St. Pierre a déclaré que l'événement protocolaire de cette année et The Tribal Journey lui ont également permis de faire quelque chose de nouveau : promouvoir les Forces armées canadiennes et les avantages d'en être membre. Elle a parlé à certains des pagayeurs qu'elle a rencontrés du nouveau Programme d'expérience navale (PEN). Ce programme offre aux diplômés des universités et des écoles secondaires qui souhaitent prendre une année sabbatique la possibilité de faire carrière dans la Marine royale du Canada.
"Les gens ont semblé très intéressés d'apprendre que l'armée permet à ses membres de prendre des congés communautaires et de participer à des événements comme celui-ci", a-t-elle déclaré. "Je suis très enthousiaste à l'idée de faire connaître le CAF à d'autres pagayeurs et j'espère pouvoir refaire le voyage tribal l'année prochaine.
Filed Under: Top Stories
Comments (0)