By Lookout Production on Jul 22, 2023 with Comments 0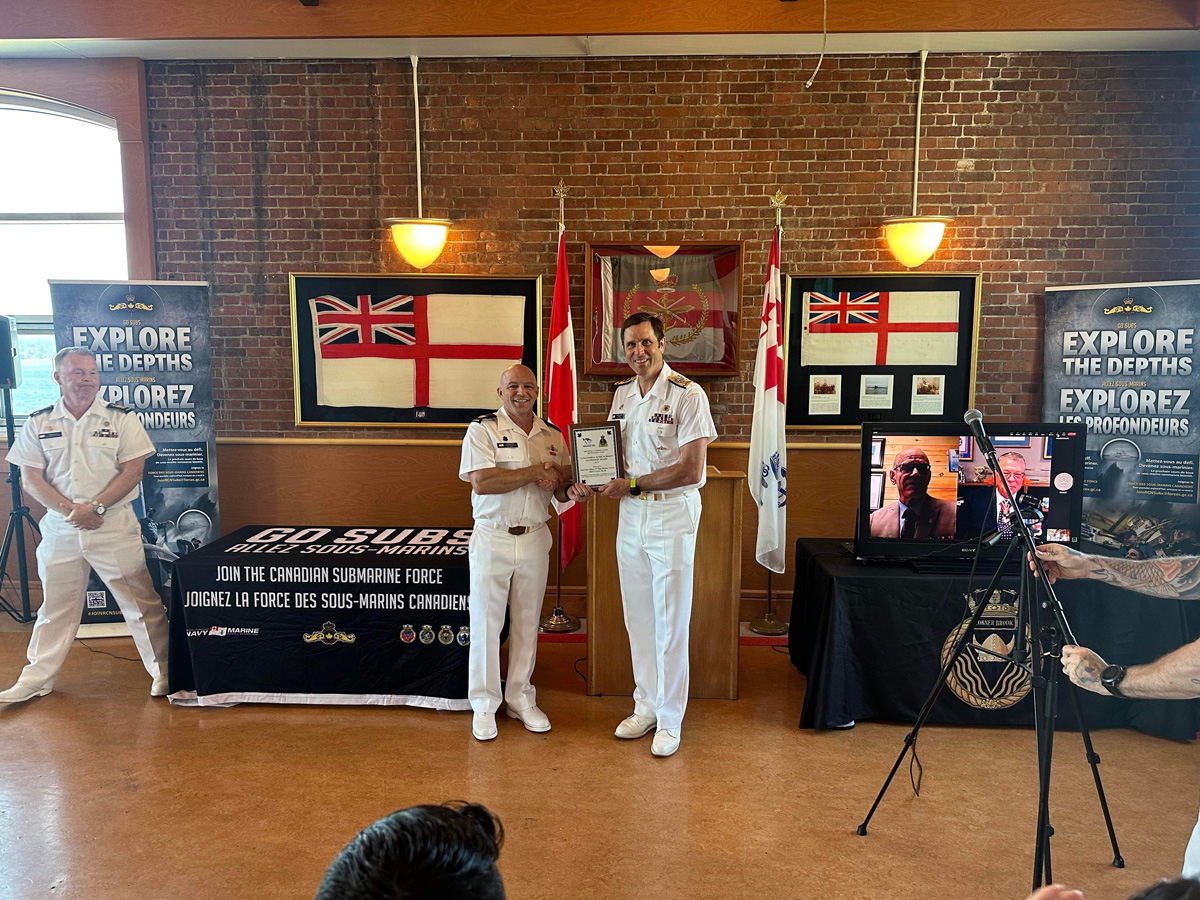 Peter Mallett
Staff Writer
Outstanding professionalism, volunteerism and community work have earned one Esquimalt-based Submariner unexpected recognition.
Chief Petty Officer Second Class (CPO2) Michael 'Rob' Tibbetts, HMCS Corner Brook Coxswain, is the proud recipient of this year's Vice-Admiral Mark Norman Leadership Award of the Royal Canadian Navy Benevolent Fund (RCNBF).
CPO2 Tibbets is the first Submariner honoured with the annual award and its fourth all-time winner.
Winning the award was completely unexpected, says CPO2 Tibbetts.
"My team at the Canadian Submarine Force (CANSUBFOR) excellently kept this as a complete secret and said my presence was needed at a ceremony to honour a different member," he said. "I was completely surprised by the nomination and very humbled and honoured to receive it."
Those attending the June 13 ceremony at the Submarine Shore Office in Dockyard included Vice-Admiral (VAdm) Angus Topshee, Commander Royal Canadian Navy, VAdm (ret'd) Mark Norman, Lieutenant-Commander (Ret'd) Tom Riefesel, the RCNBF President, the CANSUBFOR Team and members of the crews of HMC Submarines Corner Brook and Victoria.
When announcing his award at CANSUBFOR HQ in May, Rear-Admiral Christopher Robinson, Commander Maritime Forces Pacific, noted how CPO2 Tibbetts had been an active member of the submarine and sports communities for many years, balancing athletic achievement, compassionate leadership and administrative responsibilities.
"He was instrumental in stabilizing a crewing situation when Corner Brook was recently reactivated, where acute planning and administrative acumen were backed up by a positive personal nature," RAdm Robinson said. "Especially important was developing relationships outside the unit, including with supporting key agencies responsible for maintenance and personnel management."
The successful nominee receives a cash award of $5,000 and contributes the prize to an organization of choice that supports activities related to the well-being of naval veterans, serving members or military families.
CPO2 Tibbetts donated his award to three organizations: Broadmead Care, Veterans Memorial Lodge and Royal Canadian Legion Branch 161, Gaetz Brook, N.S., and Branch 13 in Corner Brook, Nfld.
In accepting his award, CPO2 Tibbetts credited those closest to him with enabling him to become a community leader and worthy award recipient.
"The support of my fiancée, family and friends directly enable the volunteer work I do as they are my support network and keep me out of the red and in the green," he said.
The RCNBF became a registered not-for-profit organization in 1942. It upholds a long tradition of providing financial assistance to Royal Canadian Navy sailors and their families with pressing needs. It derives its revenue from charitable donations from private individuals. For more information, visit rcnbf.ca.
The Vice-Admiral Mark Norman Leadership Award
The Vice-Admiral (VAdm) Mark Norman Leadership Award was established in 2020. It recognizes selfless dedication to the betterment of the quality of life and service in the Navy, outstanding contributions to the overall well-being of the broader naval community and advocacy for physical fitness and mental health. VAdm (ret'd) Mark Norman is the award's first-ever champion. He supports the RCNBF in efforts to modernize operations and seeks more impactful ways to help naval veterans, serving sailors and their families. Nominations come from various units of the Royal Canadian Navy and are brought forward to the RCNBF Award Committee.
Outside CANSUBFOR
CPO2 Tibbetts has been team captain for both the Base hockey and slow-pitch teams, leading each to championship trophies.
His encouragement and organization helped HMCS Corner Brook post the highest turnout for a unit of its size at the 2022 Navy Run.
CPO2 Tibbetts was the second-highest overall fundraiser for the Navy Run in the formation.
He helped organize the CANSUBFOR's Victoria Cup Classic Tournament against Babcock Canada Inc., a Military Family Resource Centre (MFRC) fundraiser to kick off Formation Fun Days.
CPO2 Tibbetts is active with several volunteer organizations, including the Old Timers Hockey Organization, Juan de Fuca Minor Hockey Association, Hockey Canada, MFRC, Soldier On, and Together We Stand.
Filed Under: Featured
Comments (0)